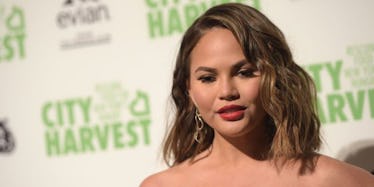 Chrissy Teigen Completely Changed Her Hair And It's Perfect For Summer
Jason Kempin/Getty Images for City Harvest
Chrissy Teigen is living her best life, guys. And living your best life also includes changing your hair up for the summer, like Teigen just did.
Yup, our beloved Chrissy just dyed her hair (and seemingly got extensions) to a beautiful strawberry blonde color, and I'm HERE for it.
The queen of Twitter tweeted a photo of herself early in the morning on Monday, July 3.
She captioned it, "New color." And judging by the look on her face, she looks like she's in love with her new look.
I have just one question though...
CHRISSY, WHAT WERE YOU DOING AWAKE AND GETTING YOUR HAIR DONE AT 4:32 A.M.?!
It also looks like you're in your home in California (based on my stalking skills that make me recognize that piano in the background that John Legend always posts pics of... don't make this weird, guys), so that means you probably posted this pic at 1:32 a.m. your time, so I guess 1:30 isn't that late to be awake.
But a haircut at 1:30 a.m.?! Homegirl is dedicated.
The last big hair change Teigen made was back in February 2017 when she chopped off her long locks and opted for a short, wavy look.
It was a dark brown color with some blonde balayage, the style literally everyone gets nowadays (including me).
Since then, she's switched between a couple different cuts/colors.
She had short, blonder hair at a Smirnoff event in New York City.
She wore it a little darker at the 2017 Met Gala.
And she had long, brown hair with blonde balayage at the 2017 Tony Awards.
Since her natural hair seems to have stayed consistently short over the last couple of months, it's safe to assume the star uses hair extensions, which are something I haven't tried out yet, but have always wanted to.
Let's be real, though, anything Chrissy Teigen does ever is amazing. And this new strawberry blonde hair is no different.
I imagine just about every woman will be dyeing their hair strawberry blonde soon.