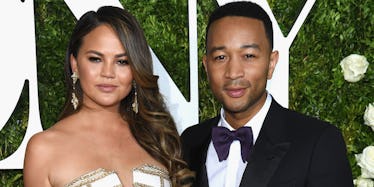 Chrissy Teigen And John Legend Were The Cutest Couple Ever At The Tony Awards
Dimitrios Kambouris/Getty Images for Tony Awards Productions
Any award show attended by Chrissy Teigen and John Legend is an award show worth watching.
On Sunday, Teigen walked the red carpet alongside her husband at the 71st Tony Awards in New York City and documented the evening on Twitter and Snapchat for all of us regulars sitting at home.
First, the 31-year-old explained why she would be in attendance in the first place.
Teigen was actually there supporting Legend, who worked as an associate producer on Jitney. The play was nominated for nominated for six awards.
Of course, they looked absolutely stunning.
Posing outside Radio City Music Hall, Teigen said this has always been a dream of hers.
The Sports Illustrated model even stepped behind the camera to photograph her husband and the cast of Jitney.
Is there anything Chrissy Teigen can't do?
The power couple didn't just slay the red carpet, though. Jitney took home the award for Best Revival of a Play, earning Legend his first Tony.
This gives Legend a GOT (Grammy, Oscar, Tony) -- all he needs now is an Emmy for the coveted EGOT.
OK, back to Teigen's commentary. The 31-year-old expressed dismay over the fact that her seat had been sat in earlier in the night.
The horror!
She clearly had fun on Broadway's biggest night anyway.
Just don't come after her. Teigen always gets the last word.
I'm not sure what this was in response to, but the Twitter queen is not here for any attacks on her or her husband.
After the show, Teigen ordered Chinese food -- like all of us after a big night out.
She then played around with Snapchat filters in bed -- again, like all of us after a big night out.
Red carpet glam or bunny ears in bed, these two could not be any more adorable.