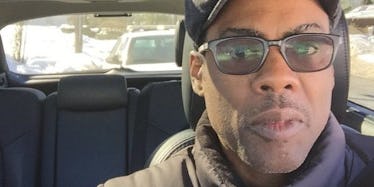 Chris Rock Took Selfies Each Time Cops Pulled Him Over In Past 7 Weeks
America has long been a place of racial harmony and peaceful cooperation between its police and its citizens.
APRIL FOOLS! America is a horrifying dystopia where racism has seeped into practically every institution, basic civil rights have been completely eroded and local police forces have more firepower than the armies of some small nations.
Sure, that might be a little extreme, but if you talk to Chris Rock, he'd probably agree with that assessment.
Rock has been pulled over while driving by the police three times in the past seven weeks. During one of those times, Rock hadn't even started his car.
There may have been legitimate reasons for the police to stop Rock, but it definitely seems like there is some racial profiling going on here. Rock took a selfie every time he was pulled over to document his experiences.
Again, it's hard to say if Rock was pulled over simply because he's black, but would he have been approached by police while just sitting in his car if he was white? Probably not, if we're being honest.
Here are the three selfies:
Stopped by the cops again wish me luck. pic.twitter.com/6t0wlgwkrJ — Chris Rock (@chrisrock) March 31, 2015
I'm not even driving stop by the cops again http://t.co/yTPPPjcKEO — Chris Rock (@chrisrock) February 28, 2015
Just got pulled over by the cops wish me luck http://t.co/pey2XAp6uu — Chris Rock (@chrisrock) February 13, 2015
Citations: Chris Rock Pulled Over for Third Time in Seven Weeks (Complex)