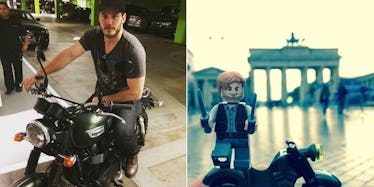 Chris Pratt Can't Stop Taking Pics Of His 'Jurassic World' Lego Man
Chris Pratt may be the biggest movie star in the world at the moment, but deep down, he's just a big kid.
Pratt is traveling all over to promote "Jurassic World," and he brings a Lego mini figure of his character, Owen, everywhere he goes.
Pratt posts the photos of the adorable Lego character to his Instagram account. I never thought I'd be jealous of an inanimate action figure, but I certainly am.
I mean, this Chris Pratt minifig went to places like Tokyo, Berlin and the UK.
Here is the Pratt Lego outside of the Zōjō-ji Temple.
Here he is chilling below the Tokyo Tower.
The little guy had a Zen moment with some raptors in a Japanese garden.
Here he is atop his bike in front of Berlin's Brandenburg Gate.
And here is Lego Owen in jolly old England.
Citations: Chris Pratt Has Been Photographing His Chris Pratt Lego Man in Exotic Locales (Cosmopolitan)