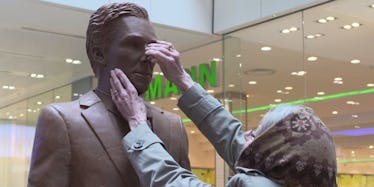 People Couldn't Stop Licking This Chocolate Benedict Cumberbatch Statue (Video)
Last week, British TV station UKTV unveiled its 6-foot, chocolate Benedict Cumberbatch statue.
The 88-pound, life-like choco-monument was then placed in a busy shopping mall in London.
And wouldn't you know it? A whole host of shoppers took turns devouring Chocobatch.
Some ripped off his chocolate fingers. Some licked his chocolate arms. One old lady tore off his chocolate nose. Even a couple of dogs got in on the fun.
I'm not sure how sanitary all of this was, but when you're faced with a chocolate version of Benedict Cumberbatch, what choice do you have but to indulge?
Citations: Chocolate Benedict Cumberbatch statue devoured by shoppers in London (Mashable)