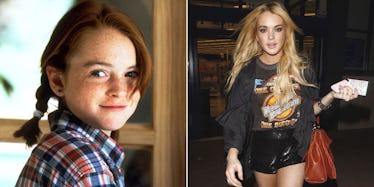 The Media Call A Child Star 'All Grown Up,' Then Blame Her For It
There's something about this image of 15-year-old Lily-Rose Depp (Johnny Depp's daughter with ex Vanessa Paradis) in a crop top, wearing a tight high-waisted skirt and matching collar that bothers me.
It's not that her shoulders are bare, or even the fact a sliver of skin peeks out between her shirt and skirt.
There's something about the overall picture of a teenager with an innocent, childlike face wearing a very savvy, fashion-forward and mature outfit.
She still has a little girl's slender frame, but she sports clothing we'd more commonly see on an older actress, like Emma Stone or Blake Lively.
In this one image, we see the paradox young people growing up in Hollywood are faced with, whether they know it or not.
They are simultaneously women and children. In a city holding youth sacred, the young are made to look older, and the older are perpetually asked to do the same.
According to The Huffington Post, Lily-Rose is "all grown up," poised to begin making red carpet appearances in Chanel. But here's the thing: She's not all grown up. She's 15.
Fifteen-year-olds outside of Hollywood are still wearing braces, hanging out at the mall and are being driven around by mom and dad in minivans.
In Hollywood, they wear veneers, hang out on set and have drivers in black Escalades.
Lights, camera... adolescence!
The effect of Hollywood on young women is outlined in a piece by "Mrs. Doubtfire" and "Matilda" actress Mara Wilson, entitled "7 Reasons Child Stars Go Crazy (An Insider's Perspective)," where sexual exploitation is just one problem child stars face.
Like Emma Watson, these young women go quickly from cute kids with bangs wearing collared shirts, to grown "women" rocking edgy haircuts, bold lips and racy dresses.
As soon as Watson turned 18, paparazzi "laid down on the pavement and "took pictures up [her] skirt," she told The Daily Mail.
Kylie Jenner, of the famous Kardashian clan, manages speculation about lip injections, all while ardently lining her lips in MAC liner and wearing cleavage-bearing shirts at public events. She's 17.
Ireland Baldwin, daughter of Alec and Kim Basinger, was thrust into the public eye at the age of 11 as the victim of her father's angry voicemail.
This was the public's first introduction to the teenager, who at just 19 has already been inducted to the "sexy shoot" mecca of racy photos.
Kids make the leap into adulthood quickly in Hollywood. But in many ways, they have to. It's how they establish themselves as solid contenders in the industry.
Lindsay Lohan was well known as a child for "Parent Trap" and "Freaky Friday," but it wasn't until her role in "Mean Girls," where she dressed and behaved much more provocatively, that her star truly skyrocketed.
Christina Aguilera and Britney Spears had both established themselves on Disney's show, "The Mickey Mouse Club."
But they broke into Hollywood fame with pop singles showing their midriffs, rolling around in sand, and wearing a "naughty school girl" outfit. Britney was 17, and Christina was 18. Their mass-market debuts were decidedly not Disney-friendly.
Oh, and remember when Miley Cyrus posed for Vanity Fair wearing a sheet at the age of 15, as part of her effort to shed her "Hannah Montana" image?
Sex sells, and Hollywood knows it, which is why little girls are ushered into women quickly. Kendall Jenner, at only 19, admits to growing up too fast in a household full of Hollywood women.
Sex sells... but at what price?
But it's not just about the sex. There's also the money, which has allowed celebrity children to behave as lavishly as adults, without raising a finger to earn it. Britney Spears reportedly spent $25,000 on a birthday party for one of her boys.
Madonna's son Rocco had a birthday party in Prague, in a castle. When you're a kid living the luxe routine of a celebrity, your life lacks the simplicity and innocence characteristic of childhood.
Of course, once these young people take on the image Hollywood wants them to, they're shunned for their behavior.
Miley's scandalous appearance on a Vanity Fair cover garnered her publicity, helped her shed her youthful image and also embarrassed her, she told Rolling Stone.
At just 15, still coming into her womanhood and unsure of how to do it, she apologized to her fans for the photo. It wasn't entirely clear she even understood why she was apologizing.
She was convinced it would be well received as a "beautiful photograph by a major photographer." She was disappointed people "saw something dirty in that."
The same sexuality that helped Christina skyrocket to fame also solicited media scrutiny.
ABC's show "20/20" posited how it was possible a "sweet-faced teen whose first hit was a Disney cartoon" could "turn into a semi-naked temptress bumping and grinding in her new orgy-like video."
They quoted Aguilera as responding, "I'm growing up," which is exactly the point. In Hollywood, growing up means becoming sexualized, then being scrutinized.
When the fountain of youth runs dry, we toss celebrities to the side.
The problem is not just that Hollywood turns kids into adults as though they're on some kind of assembly line. The problem is also the effect this has, and has had, for decades.
There appears to be a pattern of marital problems, drug use and body image issues among these young starlets.
Beloved "Wizard of Oz" actress Judy Garland faced "pressures of adolescent stardom" that "sent her to a psychiatrist at the age of 18; she was married five times; she was frequently ill… and she suffered from the effects of drugs she once said were prescribed to invigorate or tranquilize her," according to The New York Times' obituary.
Elizabeth Taylor struggled with drug use for years and was eight-times divorced, after achieving fame at the age of 12 in "National Velvet." So while they were never as overtly sexualized as individuals like Miley and Britney, child stars of yore still suffered at the hands of early stardom.
Decades after Judy and Elizabeth's Hollywood ordeals, in 2007, Britney Spears checked herself into several rehab facilities.
She also shaved her head and established herself as a nightlife socialite after a quick marriage and divorce.
But then we have child stars like Shirley Temple, a star of the 1930s whose fame continued into the 40s. Scandal never defined her life.
She pursued a political career, survived breast cancer and held numerous corporate commitments. Was she simply a product of more innocent times?
Not necessarily. There are numerous child stars, like Hilary Duff, Christina Applegate and Claire Danes who never knew the kind of scandal their contemporaries did.
Is Hollywood to blame?
Hollywood has a destructive tendency to force adulthood and later criticize these "adults" for being too mature. But it's hard to pinpoint exactly why this process has such a destructive impact.
Los Angeles-based registered dietitian Kristy Morrell says the problems these celebrities face as they grow up, like eating disorders and other self-destructive habits, could derive from the environment. She explains,
Anytime you grow up fast the pressure is high. Young women are made more aware of their flaws, and their bodies, early on.
But she is quick to point out the pressure of Hollywood is not a definitive cause of the issues so many of these child stars face. "It's just a possibility. We don't know for sure," she explains.
Nevertheless, you have to wonder why young women in Hollywood go from kids at a healthy weight to women with evidence of an eating disorder (i.e. Lindsay Lohan pre/post "Mean Girls").
Mary Kate Olsen once told Marie Claire magazine,
I would never wish my upbringing on anyone.
There's no business like show business. (And no greater monster, either.)
A 2011 article in Psychology Today also refrains from pointing fingers at a specific cause of the destructive behavior among child stars.
The development of drug use, eating disorders, depression and failed marriages depends on too many factors within the celebrities' experience.
These factors include "motivation of the child and parent, as well as the child's age, length of time in the spotlight, level of commitment, work environment and financial gains," explains the author of the article, Wanda Behrens-Horrell, L.C.S.W., N.C.P.
The upbringing of the Hollywood child involves being both under- and over-developed. They never learn how to perform everyday tasks like laundry and cooking.
While missing out on these life experiences, the child also experiences a fast-paced work environment, and what it's like to make lots of money.
The author goes on to point out show business exposes these young people to drugs, sex and alcohol early on.
This exposure comes just as the young celebrities are also facing rejection at auditions, jealousy, media scrutiny and an expectation of perfection.
If these kinds of problems come with the Hollywood territory, then what's a young star to do? It seems like part of the solution may come from parents.
Psychologists who have studied child stardom have stated, "strict parental limits are key to preventing post-adolescent disasters."
But some of the problem is not wholly preventable. Childhood stardom isolates young people from their peers.
New Jersey-based clinical psychologist Ellen Kennedy-Moore states these young people "can't mess up… so they have to adopt a very self-assured, precocious identity very quickly." The problem is, being a kid is all about messing up, and learning from those mistakes.
Can we save child stars?
The destructive impact of fame is well-documented, the solution to this destruction less so. Maybe it's just time Hollywood left the kids alone.
In the words of one Townhall columnist, what children can handle being valued for their appearance or family name before they've even established a sense of self? What parent, really, can exercise full control over that experience?
At the end of the day, maybe Hollywood and the media just need to lay off. They won't, of course, but in an ideal world, the age of 15 would just be considered too young.
Perhaps there'll be some kind of movement among the entertainment industry, or media outlets, to shield kids from so much attention and fame.
That still begs the question, can kids be in major motion pictures, or be born to major celebrities, and not garner too much attention, even if it's just from fans on the street?
I don't know. But I wish photographers, news outlets and movie studios would do an experiment. Create an age limit.
Keep those kids out of the limelight as much as possible. And when they've grown up, at their own pace, they can choose to step onto the red carpet or back into a waiting car.
Citations: Johnny Depps Daughter Lily Rose Is All Grown Up (The Huffington Post), 7 Reasons Child Stars Go Crazy An Insiders Perspective (Cracked), Emma Watsons lost innocence (The Week), Is that you Kylie Jenner looks almost unrecognisable without her huge pout as she and Kendall pose in Malibu (The Daily Mail), Ireland Baldwin reminds us shes sexy in nearly nude photos (USA Today), Miley Slideshow (Vanity Fair), Kendall Jenners Sad Confession I Grew Up Too Fast (Hollywood Life), Sneak Peek Inside Hollywood Kids Growing Up Too Fast (Babble), Miley Cyrus Confessions of Pops Wildest Child (Rolling Stone), Miley Cyrus In Bazaar Talks Parents Reaction To Topless Vanity Fair Photo (The Huffington Post), How Christina Aguilera Got Dirty (ABC News), Judy Garland 47 Found Dead (The New York Times), Elizabeth Taylor Found Being of Service Her Drug of Choice (The Huffington Post), Britney Spears goes bald (People), Successful Child Stars Actors Who Avoided The Curse Of Early Fame (The Huffington Post), The Child Performer (Psychology Today), Why Child Stars Melt Down Biebers Character Split (The Atlantic), Being a Celebrity A Phenomenology of Fame (Academia.edu), Miley Cyrus and the Tragedy of a Lost Childhood (Townhall)