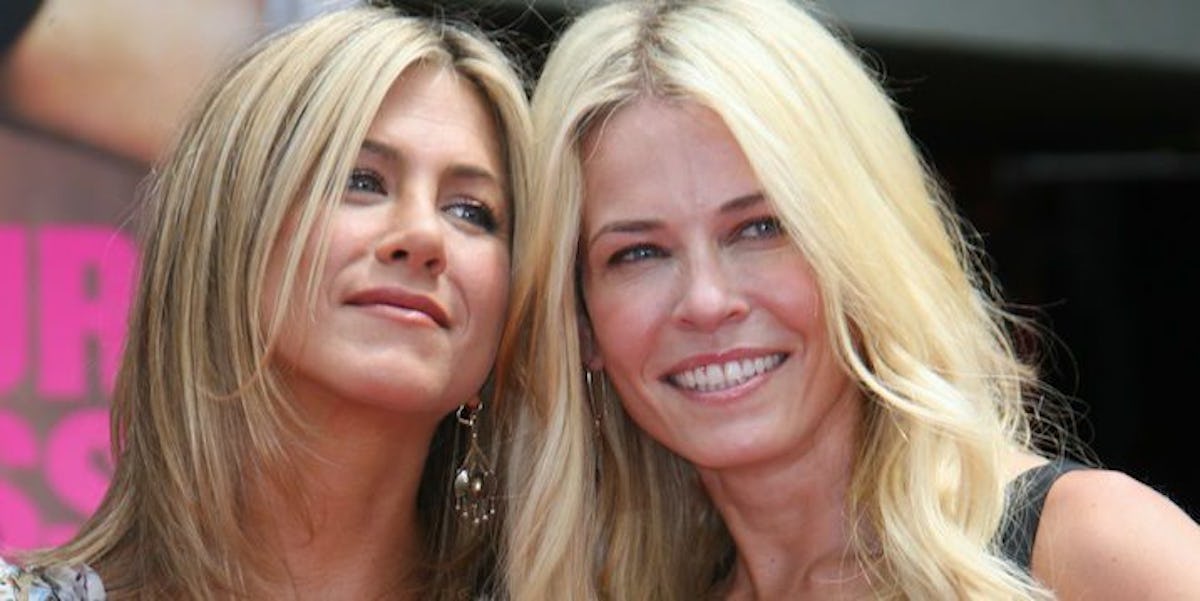 Chelsea Handler Says Jennifer Aniston Seriously DGAF About The Brangelina Drama
REX/Shutterstock
Ever since Brangelina announced the divorce of the century, the pettiest among us have anxiously awaited any input from Jennifer Aniston.
It felt as though, after all those years, Jen was finally witnessing some retribution for Brad Pitt and Angelina Jolie shacking up and leaving her in whatever luxurious, imported dust Hollywood A-listers get left in.
According to her pal Chelsea Handler, though, Jen doesn't spend any time dwelling on Brangie dramz.
The "Chelsea" host told UK's You magazine,
I don't think Jen cares about what's going on and it's crazy that people think she does... As if she's sitting around caring about [Angelina Jolie]. I know I don't.
Chelsea might not sit around caring about Angelina, but she hasn't historically expressed to much concern about sharing her impressions of the couple, who share children Maddox, 15, Pax, 13, Zahara, 12, Shiloh, 10, and twins Vivienne and Knox, 8.
On the first season of her Netflix series, Chelsea referred to Angie as "a fucking lunatic."
She added,
There are reports that part of the problem was Brad was allegedly drinking and smoking too much weed... I wonder why he needed to self-medicate? Maybe because he could have been spending the last 12 years at Lake Como hanging out with George Clooney and Matt Damon, instead of being stuck in a house with 85 kids speaking 15 different languages?
Chelsea clearly supports Jen's choice to stay tight-lipped about her views on both Brad and Angie, but feels comfy being aggressively honest with her own no matter how it's received. She appreciates those who can do the same.
She explained,
People have been saying I am scary since I was seven years old... Being opinionated scares people... I'm interested in people who have opinions and aren't afraid to express them... On my [E!] show, I interviewed a lot of reality stars and I'd always drift off, thinking about what I was going to eat later because they were so uninteresting.
All hail the friend who just fucking says it.
Citations: A-list beware: this chat show host bites! TV's Chelsea Handler speaks to YOU (You)