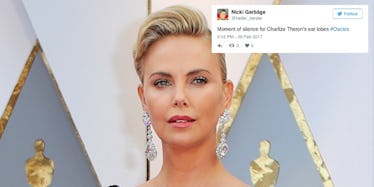 Twitter Mourned Charlize Theron's Ears That Supported Huge Earrings At Oscars
REUTERS
If Charlize Theron's ears can make it through all of the drama on Sunday night at the Oscars, you can make it through 2017.
While some viewers of the Academy Awards can't get over the series of unfortunate events that led to Envelopegate, nobody can get over the enormous Chopard diamond chandelier earrings Charlize was wearing.
Seriously, they looked like the weighed the same as her crown in "Snow White and the Huntsman."
I mean, from a structural standpoint, we should start building bridges out of whatever Charlize's earlobes are made up of instead of steel.
DO YOUR EARS EVEN LIFT, BRO?!
"What is supporting Charlize's earrings?" Uh, they're called earlobes, and they are apparently strong AF (and could probably withstand a nuclear blast).
You have certainly heard of arm day and leg day at the gym, but try adding earlobe day. *Tries adding earlobe day, ears are immediately ripped off*
I TAKE IT BACK.
No one is as strong as Charlize's ears. No one.
Charlize's ears are as hard as those diamonds she sported. On another note, did Leo give her the actual blood diamond from "Blood Diamond?"
Oh, this is absolutely a fact, OneDDirtygirls.
I could buy several houses with those earrings.
In fact, I could probably buy the entire town of Barrhaven.
First step? I'm renaming the town Barrhaven, and I'm calling it Misbarrhaven.
Now, I'm not saying you could tie Charlize's ears in a knot or you could tie them in a bow or throw them over your shoulder like a continental soldier, but let's be real.
Charlize's ears hang low.
While we're still all recovering from the Oscars' twist finale (not written by M. Night Shyamalan), we can all appreciate the timeless talent of Charlize's earlobes... and of course the timeless talent of their owner Charlize Theron.
Citations: TWITTER IS GOING CRAZY OVER CHARLIZE THERON'S EARRINGS AT THE OSCARS (Harpers Bazaar)