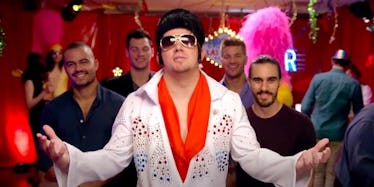 Channing Tatum Pulled Off An Epic Vegas-Themed Prank, Complete With Strippers
YouTube
Brace yourselves, everyone: I'm about to turn your work week upside down with the help of Elvis... I mean, Channing Tatum.
The 36-year-old "Magic Mike" star we've had a crush on since our teenage years recently played a prank on office employees by disguising himself as an Elvis impersonator in their building's elevator.
After flaunting a few of The King's signature dance moves and making employees feel super uncomfortable, he convinced them to join him on the top floor for — wait for it — a Vegas-themed party.
And it was lit:
I know, I'm super jealous, too.
Could you imagine skipping a day of work to hang out with Channing Tatum at a casino-themed bash in your office building?!
Heck, they even got a mid-day striptease from Channing's beautifully sculpted "friends."
... I wish had friends like these.
It's safe to say these "overworked" employees were pretty damn excited to find out they'd been invited to a party hosted by Tatum himself.
But, they're not the only ones who have been given the opportunity to chill with Channing...
You (yes, YOU) also have the chance to party with Channing. With his stripper friends from "Magic Mike Live." In LAS VEGAS, baby!
Allow me to explain...
If you didn't faint from sexiness halfway through the video, you'd know that the whole Elvis surprise was setup to promote Channing's recent partnership with (SHOPATHON) — a special shopping experience to celebrate World AIDS Day on December 1 and help stop the spread of AIDS.
The experience is hosted by (RED) — the organization co-founded by the one-and-only Bono in 2006 to raise money in the fight against AIDS — and Omaze, an online giving platform that boasts celebrity meet-and-greets.
By donating $10 here, you'll be in the running to join Channing Tatum for a night in Vegas that includes watching the opening night of "Magic Mike Live" and then being his PERSONAL GUEST at the exclusive after-party.
WORTH ALL THE MONEY IN THE WORLD!
Your donation will also go towards helping moms-to-be in Sub-Saharan Africa get crucial access to ARV pills that prevent HIV+ in their unborn babies.
Bono, co-founder of (RED), said in a press release about (SHOPATHON):
In the three decades since AIDS started its march across our planet, the world has lost 35 million people to this treatable, preventable disease. Heartbreak and loss to the power of 35 million is unthinkable, as is the fact that 400 babies are still born every day with HIV because their mothers can't get access to a 30 cent pill. So, (RED) is making it easy for everyone this holiday season to be an activist. And by giving (RED) to your friends and family, you're making them activists too.
If you choose to donate to the cause and are NOT a fan of Channing (although, I don't think that's possible), there are other celebrity experiences you can win, too.
Some of them include being invited to watch U2's full dress rehearsal, having tea with Julia Roberts and Bono, taking a Jet Ski ride with DJ Khaled, and more.
Even Robin Wright is getting in on the action — starring in a sexy "infomercial" for the campaign.
Tonight, to help kick (SHOPATHON) off and spread the news about these awesome celeb experiences, "Jimmy Kimmel Live!" will be airing a special episode.
Be sure to tune in for special guests and performances by Bono, The Killers, Halsey, and others.
Of course, Channing Tatum will be there, too. But, we'll probably just see him in Vegas anyways (because we're going to WIN, dammit!).