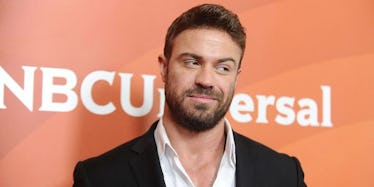 Chad Johnson From 'The Bachelorette' Apparently Has A Girlfriend And We Can't Even
Jason LaVeris/Getty Images
Bachelor Nation's favorite villain is no longer a single villain, ladies.
Yup, Chad Johnson is officially off the market. I can feel your bleeding hearts through my laptop.
According to Entertainment Tonight, Chad Johnson and model Zoe Baron made their relationship official two weeks ago after dating off and on for about three months.
How did they meet, you ask? Well, Baron reportedly emailed Johnson for fitness advice, and Johnson asked her out shortly afterwards. They reportedly had their first date at a seafood restaurant.
Johnson, 28, revealed the relationship in a Facebook Live interview with Entertainment Tonight. He said, "On a scale from one to happy, I'm totally happy."
So, who is Zoe Baron? Well, she's a model living in Las Vegas who calls herself a "self-proclaimed dog whisperer" on her Instagram.
Johnson reveals the couple hasn't said "I love you" to each other yet, but he said they're just about ready to drop that L bomb.
In case you're wondering what Chad's been up to lately, don't worry, he's still making sure his bad boy Bachelorette brand is holding strong.
The luxury real estate agent (like the rest of us) apparently thought the "whaboom" guy — aka Lucas Yancey from the current season of The Bachelorette — was completely ridiculous, so he had "whaboom" trademarked just to be an a**hole. Honestly, that's pretty funny.
He said,
I watched to see if Lucas, the Whaboom guy, got kicked off, and when he didn't get kicked off, I trademarked his Whaboom. Then I realized that by the time the trademark actually kicked in, it was like three or four months, he'd probably be off the show by then and no one would care.
LMAO. Unfortunately, Johnson canceled the pending trademark because of this revelation. But I wish I could have seen Lucas' reaction when he found out his precious "whaboom" potentially legally belonged to someone else.
Johnson might be in a real relationship with Zoe Baron, but that doesn't mean he's changed his opinion on whether JoJo Fletcher and Jordan Rodgers' relationship is the real deal or not.
In typical Chad fashion, after JoJo and Jordan got engaged at the end of her season of The Bachelorette, he spoke out in an interview with Extra saying he thinks the relationship is completely fake.
He said, "We'll see how long that lasts. It will last until the money dies off, then it will fizzle out."
He continued,
Even his ex-girlfriend said he was just looking for fame. Everything out of the guy's mouth was just what he thought would sound good on camera.
But let's not act like Chad didn't keep causing problems on The Bachelorette and Bachelor In Paradise to keep his bad boy image relevant on social media.
I'm sure his relationship is real though!!