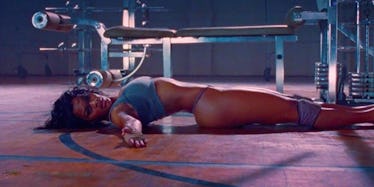 10 Gorgeous Insta Celebs Who Prove Confidence Is The Key To Sexiness
Tidal
It's that time of year again! Spring is near, so sandy beaches, tropical drinks, cute bikinis and of course, warm weather Instagrams are in our forecast.
We love when our favorite celebs flaunt their superhuman curves of all shapes and sizes on social media, and just in case you need some inspiration to find your sexy this spring, check out these 10 inspiring Instagram accounts.
1. Nicki Minaj
Nicki Minaj is without a doubt one of the hottest people on Instagram.
The Queen is not afraid to take risks and we love her for that. From hot video shoots with Future to her killer wardrobe at Paris Fashion Week, Nicki Minaj has been showing off her body all over Instagram.
With a new album on the way, we're sure we have a lot more sexiness to look forward to.
2. Khloé Kardashian
When your ex does you wrong, the best way to get revenge is to glow up!
With clean eating and the help of celebrity trainer Gunnar Peterson, Khloé has lost almost 40 pounds. Now, the 32-year-old reality star is encouraging others to get healthy on her new E! show, "Revenge Body."
3. Ashley Graham
Being sexy is not all about your size, it's about your confidence! Ashley Graham is taking the fashion world by storm while redefining what it means to be hot.
Making history as the first plus size model to grace the cover of Sports Illustrated, Ashley is an inspiration to every woman. Sexiness comes from within.
4. Jennifer Lopez
J. Lo is like a fine wine -- she just gets better with time. The "Aint Your Mama" singer keeps her signature abs intact by eating clean, dancing and of course, chasing around her adorable twins.
J. Lo also released a line of Body Lab supplements to help other women get in shape.
5. Rihanna
Rihanna is the epitome of hot! Whether she's rocking designer fashions or swimsuits, the edgy beauty keeps us mesmerized. Need we say more?
6. Kylie Jenner
A post shared by Kylie (@kyliejenner) on Mar 14, 2017 at 3:26pm PDT
Kylie Jenner always gives us sexy vibes on the gram.
She loves a good swimsuit selfie and we can't get enough of them. If you want to look cute like Kylie while working out, you can check out Puma's Forever Fierce line.
7. Teyana Taylor
We're still stuck on Teyana Taylor's appearance in Kanye's "Fade" video. There definitely was an increase in gym memberships the day after it premiered on the 2016 MTV Video Music Awards.
8. Chrissy Teigen
Don't we all wish we could eat like Chrissy Teigen and stay as hot as she is? The supermodel has made it clear that she is not fond of the word "diet."
However, she keeps her slim figure through balanced eating. See, there can be compromise -- salad one day and cheesy armadillo garlic bread the next.
9. Mariah Carey
We can always count on Mariah Carey to bring the fabulousness to workouts. You know the queen diva isn't going to wear a basic pair of sweats and t-shirt to burn calories in. She hits the stair climber in heels and fishnets because that makes sense.
We're sure she and the aforementioned Gunnar Peterson have a lot of fun, as long as someone is there to fan her.
10. Lady Gaga
We love Lady Gaga for loving herself. The 2017 Coachella Headliner addressed the haters who body shamed her after her Super Bowl performance.
Lady Gaga wrote on Instagram, "I heard my body is a topic of conversation so  I wanted to say, I'm proud of my body and you should be proud of yours too."
With spring break season upon us, why not use these ladies as inspiration?