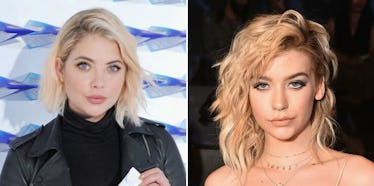 16 Celebrity Doppelgängers You Probably Thought Were The Same Person
Craig Barritt/Getty & Theo Wargo/Getty
Plenty of celebs have been mistaken for other stars. They're all beautiful, many of them are named Chris – it's hard.
When Chris Pratt appeared on Billy on the Street in 2015, he was mistaken for Chris Evans (understandable), Liam Hemsworth (ok), Josh Duhamel (ehh), and "that guy from VH1" (what?).
But those mix-ups are nothing compared to these celebs who actually look a lot like each other. Beware, it gets kind of creepy.
Victoria Justice, Nina Dobrev, and Melanie Iglesias
Victoria Justice, Nina Dobrev, and Melanie Iglesias look basically identical – and they're not even the only fair-skinned, perfectly symmetrical-faced brunettes on this list. I'm starting to think maybe that's just the kind of face that gets you famous. Regardless, they're all gorgeous.
This one might be my favorite because 1. Opposite-sex doppelgänging is pretty rare and 2. I had never seen Avicii's face before today. He belongs to that growing club of EDM hit-makers who I couldn't pick out in a lineup if you paid me. The Chainsmokers, Martin Garrix, Zedd, Kygo, Diplo… it's a long list, but as of today, a list Avicii is no longer on. Hard to unsee.
Katy Perry, Zooey Deschanel, and Emily Blunt
This trio (and several variants including Lily Allen, Siwan Morris, and Mia Kirshner) is one of the most well-known cases of celeb doppelgängers, but it's worth mentioning again because… look at it.
I think it's the bangs. Or maybe that they all seem to go for their right side in photos? Either way, it's a controversy that hasn't left the stars themselves unaffected. Way back in 2009, Katy tweeted about it and she wasn't pleased.
Sorry, Katy.
Amy Adams and Isla Fisher
OK, this one actually trips me up. I saw Fisher in Confessions of a Shopaholic when I was 12 and remember thinking that Princess Giselle from Enchanted (played by Adams) was looking really good.
It's hard to find a photo of these two where they don't look alike. Fisher herself once admitted that she put Adams on her holiday cards – maybe she wanted to see who was actually reading them and who was tossing them right in the recycling.
Ed Sheeran and Rupert Grint
It probably wasn't easy for Ed Sheeran to grow up looking like Ron Weasley. I mean, being named Becky (as in, with the good hair) when Lemonade came out was hard on me, but being an 11-year-old male redhead in England when the Harry Potter movies hit? Must have been tough.
Maybe that's why Sheeran seemed to exact some revenge in his 2011 "Lego House" music video, where he had Grint forcibly removed from an arena for impersonating him. Maybe not though, because just this year Grint let the world know Ed Sheeran isn't even real – he's just a character he created to cope with the end of Harry Potter. It never ends.
Amanda Steele and Ashley Benson
When IMG model Amanda Steele, also known as MakeupbyMandy24, went blonde back in 2015, her resemblance to Pretty Little Liars star Ashley Benson was stunning. These days, Steele is back to brunette – but once you see this one, it's hard to forget.
I have nothing to say about this one other than that it haunts me.