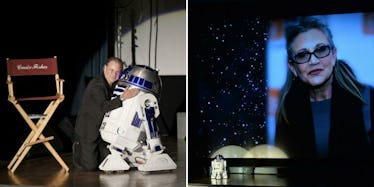 Carrie Fisher's Memorial Showcased R2-D2 And A James Blunt Song He Wrote For Her
REX/Shutterstock
Crying? Oh, I'm not crying. My eyes have just turned into two eternal faucets of briny water. That's all.
The public memorial of Carrie Fisher and her mom Debbie Reynolds at the Forest Lawn Cemetery happened on Saturday, a full three months after the two passed away.
Needless to say, there were so many things about this public service that were so touching, you better not read this in a public space because you're going to cry forever.
First, Dan Aykroyd spoke.
For those of you who don't know, Carrie Fisher and Aykroyd were engaged before she left him for Paul Simon. At the memorial, Dan said,
We shouldn't be here so soon in our lives.
BRB, getting a mop to sop up all these tears.
Secondly, a ton of fans (or as Fisher would call them, "extended family") showed up.
Thirdly, R2-D2 made an appearance to send off her princess.
The idea of R2-D2 sadly beeping over the loss of Carrie Fisher is probably the most heartbreaking thing I can possibly imagine. Beep, boop, I'm so sad.
Fourthly, the event had so much dancing I'm already lobbying for it to be nominated for a Tony.
Fifthly, he Gay Men's Chorus of Los Angeles sang "True Colors" by Cyndi Lauper.
In addition, James Blunt, whose godmother was Carrie Fisher, wrote a song about her passing that included these lyrics:
You left without saying goodbye / I'm here to let you know / I'm here to let you go.
Yeah, I'm basically a sentient puddle of tears right now.
In order to cheer you (and me) up, here's a dance set to "Singin' In The Rain" that brought down the house.
Todd Fisher, Carrie's brother, did a great job with organizing the event and accurately described it as a show, not a memorial.
Citations: All the colorful scenes from Carrie Fisher and Debbie Reynolds' public memorial (Mashable)