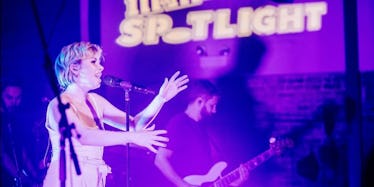 Carly Rae Jepsen Shares Behind The Scenes Look At Her Upcoming Album – EXCLUSIVE
M&Ms Spotlight Concert
Where in the world is Carly Rae Jepsen? The answer is — everywhere. Elite Daily exclusively spoke to the "Call Me Maybe" singer to talk all about life, kissing strangers, and her upcoming album.
Let me tell you, Jepsen is awesome. She's every bit as nice and bubbly as I imagined she would be and I can't wait to hear more of her new music. When I asked what sort of sound we can expect from her new album she told me,
It's a good question because I have so many different songs, I don't know how to talk totally about the album yet. I haven't sort of picked what songs are making the album, I definitely have my favorites.
Jepsen certainly has a full plate. She posted on Twitter that she was taking a little break in Italy after writing "like 50 tunes" for her upcoming album.
Jepsen also gushed about working with Patrik Berger, the person who produced Robyn's "Dancing On My Own" and Charli XCX's "The Fault In Our Stars."
It was a pleasure to get to work with him and I think some of our stuff has been my favorites.
If it's anything like Berger's previous work, it will definitely be a catchy hit. As for a release date, Jepsen isn't on any tight deadlines, and definitely likes it that way. She says,
We don't have a plan for that yet, which is a really great place to be. I can still kind of... beat what I've got and experiment in different places without any of the pressure. It's lovely ... This is the fun process of me narrowing it down and I'm really looking forward to getting it out there soon. Right now, it's just about being a weird little experiment.
Since I can't stop listening to "Sorry Not Sorry" and "Cut To The Feeling," I wondered what Jepsen listens to for inspiration. Her answer was a little surprising,
Actually, I'm kind of into more somber stuff. I've kind of had a little darker taste for moodier music that I listen to. Probably to offset stuff I write since it's more joyful, happier things. But, there's this song called "Paul" by Big Thief that I'm really into and "Baby" by Ariel Pink. I think it's fantastic and so sexy.
Why is she so cool? Her suggestions were so key and I've been listening to "Baby" on repeat since our chat.
If you're looking to diversify your Spotify playlist, Jepsen is a great resource. One of the things that I personally love about her music are the funky and sometimes out-of-left-field collaborations. No matter who the artist is, she is always able to create something new. So, who does she have her eye on for the next collaboration? She said,
Do you know the song "Back Pocket" by Vulfpeck? I love that song, so it would be amazing to get in the room with them at some point if that was a possibility. I think they're fantastic.
Vulfpeck is an American funk group and I think that would be such a cool collab. Members of Vulfpeck, if you're reading this, please call Carly Rae Jepsen ASAP.
Jepsen talked to me the day of her big pop-up concert in Chicago for the M&M's Spotlight series.
This concert brought fans together for a moment of spontaneous fun through music. I wanted to know the most spontaneous thing she's ever done, and her story literally gave me life. She said,
I one time -- throwing it way back -- I one time kissed a stranger without actually really talking to him first. I was at a bar. It was St. Patty's Day. Everything was green, I was with my girlfriends, and I was doing that thing where you kind of play eyes at someone across the room ... [My friend] wanted to go and I was like, I feel like I didn't even get a chance to talk to him. So I went over really quickly and was just like, 'Hey, I know this must seem weird, but I have to go now so I'm just going to kiss you and leave.' So I did.
Actually it was a little bit of a romantic story at the end of the day ... I was playing a show [in Vancouver] and I put up all these posters around my neighborhood and he saw the posters and recognized me and came to the show. So we ended up having a little date.
Jepsen assured me it was a "blue moon moment." Fascinated by her spontaneity, I asked about her exciting new look and the drastic hair change. She said,
The reason I have short hair is actually kind of funny. I was getting my hair dyed in time for the Target commercial and we dyed it from black to blonde in one day. I went to run my hands through my hair and just ... some of it came out. So, let's go for a pixie cut!
The final thing I had to ask about was John Mayer. First, because I'll talk to anyone about John Mayer. Second, because the two have been connected throughout Jepsen's career.
I needed to know every single minute she has spent with John Mayer IRL, and if he's ever read any of my articles. Sadly she said,
I don't know John Mayer, no. I have met him by chance, once. He's just been really surprising in terms of being supportive. I think, from the beginning, when we first came out with songs, he sent a nice care package of some things that were sweet to say like, 'Hey! You're doing some good writing.' I was like, 'Oh my God, this is the man who wrote "Slow Dancing In A Burning Room." I'm blown away.' So he's just been very sweet.
Ugh, some people have all the luck. Clearly, Carly Rae Jepsen has been busy. After hearing how passionate she is about her upcoming album, I can't wait to see what hits Jepsen drops next.