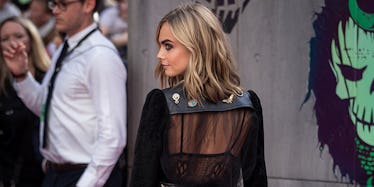 Cara Delevingne's New Neck Tattoo Gives Her Eyes On The Back Of Her Head
REX/Shutterstock
When it comes to matching coolness with subtly, Cara Delevingne's new tattoo might just be one of the sickest in showbiz.
On Saturday, we got our first look at the new ink courtesy of New York-based tattoo artist, Bang Bang, who posted this video on his Instagram page while tagging the 24-year-old star.
The eyes that were inked onto her neck means she now has a sort of hybrid of a tattoo behind her head.
Before, there was just one tattoo, sans eyes, that featured writing in a foreign language (it's unclear which language the words are written in).
Now, however, with the addition of the eyeballs, it looks like it could be the shot of a woman with her mouth being covered.
That guess was ultimately a shot in the dark, but until Cara lets us in on what she was thinking when she got this tattoo, shots in the dark are all we have.
This neck tattoo, though, only adds to Delevingne's collection of body ink. The woman is, quite frankly, a serial tattoo getter. Two years ago, for instance, she got a "DD" tattoo on her hip along with Jourdan Dunn.
Presumably, the tattoo represents their friendship by putting the heart around their respective last name's initials.
The model has gotten ink on her wrists, her ribs, her fingers... everywhere!
Cara even has a tattoo on one of the most sensitive areas of all: the bottom of her foot. And she relied on Bang Bang for this one, too, inking the words "Made In England" on her left sole.
Clearly, Cara Delevingne is about this tattoo life, and she just proved it once again with that sick addition on her neck.
Citations: Fox News, Refinery 29