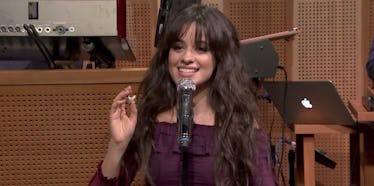 Camila Cabello Turned Tweets Into Songs On 'Jimmy Fallon' And It's Incredible
YouTube
If there is any doubt in anyone's silly mind Camila Cabello can't hold her own, you can get over yourself.
After a truly fire performance at the 2017 Billboard Music Awards of her new hit "Crying In The Club," the 20-year-old singer and ex-member of the girl group, Fifth Harmony, has had our attention.
This past Thursday, June 22, Cabello joined The Tonight Show host Jimmy Fallon for a segment called "#Summersongs." In preparation, Fallon tweeted out:
Hashtag game! Tweet out a funny summer-themed song and tag it with #SummerSongs. Could be sung on our show by @Camila_Cabello!
And fans immediately replied with several tweets.
On the show, Cabello belted out a set of summer-themed lyrics to the tune of our favorite hits, all while being backed up by Fallon's band, The Roots.
Renditions included Adele's "Hello," Justin Bieber's "Sorry," Whitney Houston's "I Wanna Dance With Somebody" and more.
Cabello was at the top of her game and totally charming. Take a look.
Dang, girl. I love you.
Of course, Cabello was also there to promote her upcoming album The Hurting. The Healing. The Loving. scheduled to come out later this year.
And, if you thought she wouldn't perform a hit of her own, think again.
She later took to The Tonight Show stage to perform "No Crying In The Club," reminding all of us just exactly how talented she really is and how perfect she is for the solo spotlight.
In an Instagram post, Cabello called her album "the story of [her] journey from darkness into light."
She added,
I was completely broken during that time, I was in the kind of pain that's uncomfortable to talk about, and it was the kind of chapter you never want to read out loud....
You can read the full post below.
Camila, we think you're incredible.