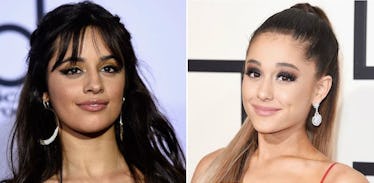 Camila Cabello On Ariana Grande After Manchester Attack: She Was "Shaken Up"
David Becker/Getty Images and Jason Merritt/Getty Images
No one can blame Camila Cabello for not knowing what to say to her good friend Ariana Grande after the recent events at one of her concerts.
Last Monday, a solo suicide bomber set off an explosion at Ariana's concert in Manchester, England, killing at least 22 people and injuring many more. Many of the victims were young girls.
Fellow singer and Ariana's good friend Camila Cabello told Britain's This Morning that she spoke with Ariana in the days following the horrific attack.
Camila explained, "Yeah, I spoke to her after that happened. I'm so sorry, I can't even imagine." She added, "[She's, you know,] shaken up. I mean what can you say?"
The hosts of This Morning then commented on Ariana's announcement to head back to Manchester for a tribute concert, alongside Katy Perry, Justin Bieber and more.
Regarding her friend's bravery in returning to the city, Camila said,
We were just talking about it in the car, about that concert, and I feel like, ya know, it's horrible that it takes that for, ya know, sometimes for people to come together like that -- but I'm super proud of her. And, I think that coming back to Manchester, especially with everybody, is amazing.
The benefit concert is titled One Love Manchester and will be held at the Emirates Old Trafford Cricket Ground on Sunday, June 4.
Any fans who were at the concert on May 22 will be able to attend the benefit concert entirely free, and all other proceeds will go toward the We Love Manchester Emergency Fund, organized by the British Red Cross and Manchester City Council to support those affected by the attack.
Additional performers include Coldplay, Miley Cyrus, Niall Horan, Take That, Usher, Pharrell Williams and more, and tickets will go on sale Thursday, June 1, at 10 a.m. B.S.T.
Elite Daily continues to send love and support to those affected by this tragedy.
Citations: Ariana Grande Was ''So Shaken Up'' After Manchester Bombing, Camila Cabello Says (E! News)