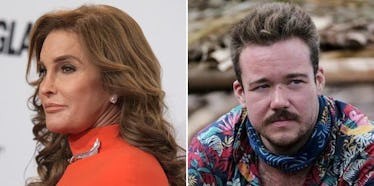 Caitlyn Jenner Speaks Out After 'Survivor' Contestant Outed By Castmate
REX/Shutterstock/CBS
Caitlyn Jenner has something to say to Zeke Smith, the "Survivor" contestant who was outed as transgender against his will on the show's April 12th episode.
Jenner says she's proud of him because she knows the journey ahead as a transgender public figure will not be an easy one.
Jenner retweeted Smith's Hollywood Reporter guest column about the incident, writing,
Being trans in the public eye is no joke, but you did good buddy. You made us proud.
The 28-year-old "Survivor" contestant was outed by a fellow contestant, Jeff Varner.
Varner, who is an openly gay man from North Carolina, attempted to save himself from getting voted off by putting the spotlight on Smith's "deception."
"Why haven't you told anyone you're transgender?" Varner asked Smith, in front of all the cameras and other castaways.
However, the move backfired, as the cast members immediately came to Smith's defense and criticized Varner for sharing such personal information.
Ultimately, Varner was voted off at the end of the episode.
Though Smith hugged Varner as he left the show, his published essay in The Hollywood Reporter admits he struggled with that show of forgiveness months after the episode filmed.
Smith describes the pure terror of being outed, writing,
The lights magnified in brightness. The cameras, though 30 feet away, suddenly felt inches from my face. All sound faded. I could've made a clean break for it, but I knew there was no running from what had happened. Cameras would follow me, if not that night, then eventually. Running was not an option. So I sat blank, almost in a trance, unaware of what happened around me, trying to form a plan.
Jenner has been openly transgender in the public eye for two years now.
She came out of her own volition first in a "20/20" interview with Diane Sawyer, followed by the now-famous Vanity Fair interview.
Despite a fairly active Twitter account, Smith has not yet to respond to Jenner's show of support.
Citations: @Caitlyn_Jenner (Twitter)