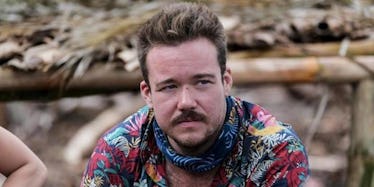 'Survivor' Member Outed Castmate As Trans And Everyone Is Understandably Pissed
CBS
Zeke Smith is a contestant who's doing pretty well on season 34 of CBS's reality show, "Survivor: Game Changers."
He's 28, a writer and a Brooklyn resident. He also happens to be transgender — but he never wanted to announce it on national television.
Unfortunately for Smith, his choice was taken away by fellow castaway, Jeff Varner, who outed him on the April 12th episode of the show.
In last night's episode, Varner —  an openly gay former news anchor from North Carolina — revealed Smith's gender identity in the hopes of getting Smith voted off instead of himself.
Varner told host Jeff Probst,
There is deception here. Deceptions on levels, Jeff, that these guys don't even understand.
Then Varner turned to Smith and asked, "Why haven't you told anyone you're transgender?"
Varner's methods backfired, as fellow cast members immediately criticized him for revealing personal information about Smith. He was ultimately voted off the island.
Varner protested, saying he argues for transgender rights in his home state and didn't mean any harm. Smith and Varner embraced as Varner left the show.
But in an essay written for The Hollywood Reporter, Smith opened up about the experience of being outed against his will in such a high-profile way.
"I'm not wild about you knowing that I'm trans," Smith began. "An odd sentiment, I realize, for someone who signed up for two seasons of the CBS reality giant, 'Survivor.'"
Smith explained he never expected to make it has far as he did; he expected to return home and continue his life, "casually trans in the same way that Zac Efron is casually Jewish."
Smith went on to describe what he felt when Varner uttered those words.
In THR, Smith wrote,
The lights magnified in brightness. The cameras, though 30 feet away, suddenly felt inches from my face. All sound faded. Something primal deep inside me screamed: run. I lost control of my body, my legs bounced up and down uncontrollably, willing me to flee, but the rest of me sat dead as stone. To my left was The Abyss. I could've made a clean break for it, but I knew there was no running from what had happened. Cameras would follow me, if not that night, then eventually. Running was not an option. So I sat blank, almost in a trance, unaware of what happened around me, trying to form a plan.
Smith said he felt Varner's accusation revealed a deep-seated prejudice that transgender people face daily.
"In calling me deceptive, Varner invoked one of the most odious stereotypes of transgender people — a stereotype that is often used as an excuse for violence and even murder," he wrote.
He continued,
In proclaiming 'Zeke is not the guy you think he is' and that 'there is deception on levels y'all don't understand,' Varner is saying that I'm not really a man and that simply living as my authentic self is a nefarious trick. In reality, by being Zeke the dude, I am being my most honest self — as is every other transgender person going about their daily lives.
Varner responded to the essay on Twitter, admitting his fault and offering his heartfelt apologies to Smith.
"Let me be clear," Varner wrote, "Outing someone is assault. It robs a strong, courageous person of their power and protection and opens them up to discrimination and danger."
Varner concluded, "I am deeply saddened at what my mistake unleashed and I promise to use its lessons to do the right thing."
Smith finished his essay by admitting even though he hugged Varner that night, he has struggled with forgiving him in the months since filming.
"But forgiveness does not require friendship. Forgiveness does not require forgetting or excusing his actions," Smith wrote, explaining his decision to forgive Varner, but not befriend him.
"I have hope for Jeff Varner," he wrote. "I just choose to hope from afar, thank you very much."
Citations: 'Survivor' Contestant Opens Up About Being Outed as Transgender (Guest Column) (The Hollywood Reporter), Survivor: Game Changers Star Jeff Varner Apologizes to Zeke Smith: "Outing Someone Is Assault" (E!)