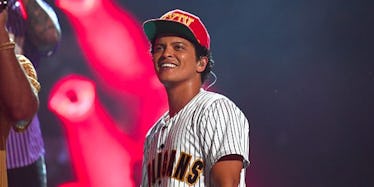 Bruno Mars Dropped "Versace On The Floor" Music Video With Zendaya & It's Everything
Paras Griffin/Getty Images
OK, so a lot went down at the Teen Choice Awards this year. We've seen our fave celebs looking flawless on the blue carpet, we've seen shows like Riverdale take home a bunch of awards, and we've seen some pretty amazing performances. Nothing is as exciting, though, as the fact that Bruno Mars dropped his "Versace on the Floor" music video. Actually, I lied. The only thing even more exciting is the moment when you realize that Zendaya is in the "Versace on the Floor" video.
I mean, Bruno Mars is amazing by himself, and we know Zendaya is amazing by herself, but, somehow, putting them together has me shaking, people.
The pop star took home the 2017 Visionary Award at tonight's ceremony, and, though he wasn't there in person to accept the award, he had a few surprises up his sleeve for the crowd during his acceptance speech. That's right, nobody was expecting him to tease the video for his new single during his acceptance speech. Of course, he took it one step further and dropped the official video on his Twitter seconds after that.
Everything seemed all fine and good in the "Versace on the Floor," video... you know, typical Bruno Mars stuff... until our queen, Zendaya, appeared in a shot and we all went f*ckin' bananas. I mean, I'll be the first to say, I had no clue a Zendaya/Bruno collab is what I ordered in 2017, but I'm sure as hell happy I got it.
Don't let me keep rambling on, let the video speak for itself.
Of course, once they saw the full video, Twitter started freaking out. 
So, in short, if you've ever wondered "How can I make Bruno Mars even better?" you've officially got your answer. To be fair, though, Zendaya could make anything better. She slays in everything she does, and my only hope is we keep seeing more and more of her because who doesn't love a talented, intelligent, and beautiful activist, actress, and musician? Smart choice, Bruno.