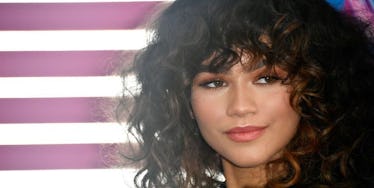 Zendaya's Teen Choice Speech Is A Call To Action For Young People After Charlottesville
Frazer Harrison/Getty Images
This Sunday night is an amazing night. At the 2017 Teen Choice Awards, Zendaya took home the surfboard for Choice Summer Movie Actress, and delivered a speech worth so, so much more. Zendaya's Teen Choice Awards speech, which you can read below, is guaranteed to inspire you.
Her words come hot on the heels of the incredulous actions that took place this weekend in Charlottesville, Virginia, when an alt-right rally turned violent. Demonstrators attacked rally protestors, waved confederate flags, and chanted nazi slogans, resulting in an outrageous and terrifying white-supremacist attack.
Tonight, when Zendaya accepted her award, she took the opportunity to directly address young people regarding these events.
She said,
This means so much to me. I appreciate this more than you guys can understand. Spider-Man is about a young person so right now I want to talk all of the young people in the audience right now, I want ya'll to listen ad all the young people out there. With all the injustice and the hatred and everything that is happening not only in the world, but in our country right now, I need all you young people, I need all you guys to be educated, I need you to listen, I need you to pay attention. And I need you to go ahead and understand that you have a voice and it is OK to use it when you see something bad happening. So make sure that you stay educated and that you do not let people tell you what you think you should feel. Because you are the leaders, you're the future leaders of the world, you're the future presidents, the future senators, and you guys are the ones who are gonna make this world better. So I'm just letting you know, right now, that you are the future, OK? SO take that very, very seriously. Thank you so much and everybody have a beautiful night.
Twitter exploded with appreciation and love for their main girl.
Our hearts and thoughts echo Zendaya's words, and are with Charlottesville this evening.