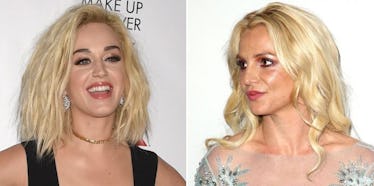 Britney Spears Responds To Katy Perry's Grammys Diss With Cryptic Quote
REX/Shutterstock
We're all guilty of using 2007 Britney Spears as a benchmark for our sanity and emotional well-being.
Guilty.
Generally, we reference her famous meltdown in a loving way, because humanity rallies hardest for two things: free food and Britney Spears.
BRB, just realizing how often I tweet about Britney, bitch.
Katy Perry recently made a similar remark, which was most likely about Brit's mental wellness, except she did it on national television during E!'s red carpet coverage at Sunday night's Grammy Awards.
The "Chained to the Rhythm" singer told Ryan Seacrest her career hiatus was intended to "[take] care of [her] mental health" and her efforts to do so "went fantastic."
She added,
I haven't shaved my head yet!
Eeeeeeeeeyikes! It sounds like Katy is, of course, referring to the infamous 2007 Britney Spears head-shaving incident.
You know, the one that preceded the infamous 2007 Britney Spears umbrella smashing incident.
On Monday, Britney posted a picture of two hands forming a heart in front of a sunset, captioned with a Bible verse.
She wrote,
Her mouth speaks from that which fills her heart [heart emoji] Luke 6:45
~*~ Beautiful ~*~ Serene ~*~ Possibly a dig at Katy Perry's ruthless heart ~*~
Brit could just be talking about her own mouth-speaks, as though what fills her heart is hot bodies, Bugattis, Maseratis, Lamborghinis, martinis, bikinis, big mansions and parties in France (like, same).
For Katy's sake, let's hope Brit's pic had nothing to do with her red carpet joke. Katy already has her hands full with her long-running Taylor Swift feud.
Katy and Taylor ran into each other and mutual ex John Mayer at Drake's birthday party back in October, and each just sort of pretended the other wasn't there, as though that's more casual, somehow.
A source told Us Weekly,
Katy didn't care that Taylor was there, she's above all that. She was just there to have a good time… John approached Katy and they talked – they're on good terms… Seeing John is like seeing an old friend.
Casual, casual. Totally casual. Totally real.
Citations: Is This Britney Spears Insta A Response To Katy Perry? (Refinery29)