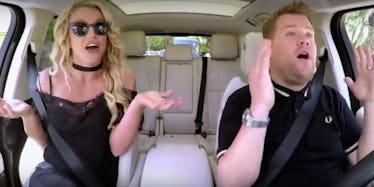 Britney Spears And James Corden Turn Up To 'Toxic' In 'Carpool Karaoke' Teaser
YouTube
James Corden has had the honor of jamming out in the car next to so many celebrities, but we're most excited for the August 25 episode featuring the one and only Britney Spears.
I would literally lose my ability to drive if Britney was my passenger, "helping me drive to work," as James says.
In the teaser, James and Britney talk about their personal lives and turn up for "Toxic." (Talk about a throwback!)
The best part might be when James asks the 34-year-old mother of two if her kids have seen her Vegas show, "Piece of Me."
After Brit confirms they have, James jokes, "I saw my mum in her underwear once when I was like, 11."
Britney laughs and says, "You're so dirty!"
From the looks of it, James is a huge Britney fan and she LOVES it. We can't wait to hear James and Brit dish more about Britney's brand spankin' new album, "Glory," which comes out on August 26.
This episode is going to be epic. Catch it this Thursday on CBS' "The Late Late Show."
Citations: This Teaser Video Proves Carpool Karaoke with Britney Spears is Going to Be Epic (Cosmopolitan)