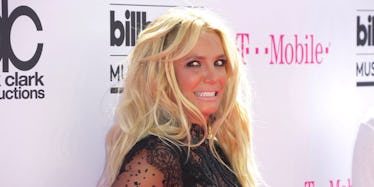 Britney Spears Invites Teen Wolf Up On Stage But Doesn't Recognize Him
REX
This is not quite as awkward as the time when Britney Spears realized that Ryan Seacrest wasn't gay, but it's definitely up there.
We reported earlier about how excited we were over Brit's return to the VMA stage on August 28, but as of right now, this onstage moment is my everything.
At each performance of the Queen of Pop's Las Vegas show "Piece of Me," Spears invites a lucky fan up on stage, ties them up and walks them around with a leash for her performance of "Freak Show."
It's a great opportunity to really get a sense of what it's like to be Brit's dog.
Anyway, Britney recently brought up "Teen Wolf" star Colton Haynes to the stage and absolutely loved his dancing.
The only problem? The Queen B had no f*cking idea who Colton was. In this moment, Britney was all of us at a party introducing ourselves to someone... we've met four previous times.
"OH HI, MY NAME'S TIM. OH, I'VE MET YOU BEFORE? WAIT, YOU'RE MY BEST FRIEND SINCE SECOND GRADE?! OOPS."
To put it in "Hamilton" terms, Britney totally pulled an Aaron Burr.
Check out the Instagram video of the encounter provided by Colton below.
As you can see, Britney did not shy away from her love of all things Colton (who?) when she said,
That was so much fun, oh, my God! Thank you for coming up here and dancing with us. What's your name? Colton? Give it up for Colton, everyone! You're an amazing dancer, oh, my goodness. Call me anytime. Everyone's so beautiful. And that ass!
If Britney Spears complimented me like this, she could forget who I was any day o' the week.
Of course, even though Brit had not even the slightest hint as to who Colton was, the "Teen Wolf" actor made it clear that he'd sign a billion-year contract in order to be a backup dancer for Britney.
You hear that, Britney? Colton will be your private dancer, a dancer for money.
Also, can we talk Brit invited Colton to call her anytime? Can we ship these two already?
Citations: Oops! Britney Spears Didn't Recognize A Famous Person Again (Huffington Post)