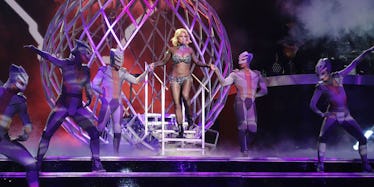 Britney Spears Is Auctioning Off Her 2016 VMAs Outfit For Charity
REX/Shutterstock
One "Lucky" Britney Spears fan is going to walk away with her VMA outfit.
On Monday, the 34-year-old pop music legend announced she will be holding a raffle through CrowdRise.com for fans to either win a trip to this year's MTV Video Music Awards or take home the literal dress she'll be wearing to this Sunday's show.
Teaming up with the America Red Cross, Britney announced she plans on donating funds from the sale to those affected by the flood in Louisiana.
So, if you have $10 and a giant white snake at home, you are now one lucky lottery ticket away from literally becoming Britney Spears for a few minutes.
Britney, who grew up in Louisiana herself, joins Taylor Swift in her efforts to aid those affected by the events in Louisiana.
The 26-year-old singer reportedly donated $1 million dollars to flood victims.
Along with the donation, Swift shared her sentiments, saying,
We began the 1989 world tour in Louisiana and the wonderful fans there made us feel completely at home. The fact that so many people in Louisiana have been forced out of their own homes this week is heartbreaking.
Citations: Britney Spears Auctioning the Clothes Off Her Back to Raise Money for Louisiana Flood Victims (E! News)