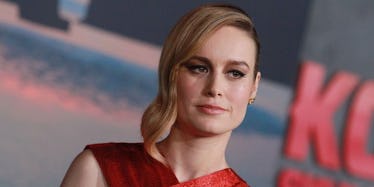 Brie Larson Finally Breaks Her Silence Over Casey Affleck Winning An Oscar
REX/Shutterstock
Brie Larson confirmed that not clapping for Casey Affleck after she announced his Oscar win was not an accident, but an intentional choice.
Last month at the Oscars, the 27-year-old actress was tasked with presenting Best Actor to the star of "Manchester by the Sea," Casey Affleck.
However, in an act of seeming defiance, Larson stood to the side, motionless, while the rest of the audience applauded Affleck's win.
Now, in a new interview published by Vanity Fair, Larson has confirmed that she did, in fact, do that on purpose — but she doesn't want to elaborate any further on the matter.
While at the LA premiere of "Kong: Skull Island," Larson said to reporters,
I think that whatever it was that I did onstage kind of spoke for itself. I've said all that I need to say about that topic.
Then, on Thursday's episode of "Live with Kelly," Larson told Christian Slater she had "no memory" of presenting Affleck with his Oscar.
Earlier this year, Larson also had to present Affleck his Golden Globe, and did so with a frown on her face.
Even though she didn't explicitly say what caused her to take these small protests, many assume it has to do with the lawsuits for sexual harassment against Affleck.
Affleck was sued by two separate female co-workers for countless instances of sexual harassment and misconduct in 2010 while on set for the movie "I'm Still Here."
Both women provided many examples of Affleck's misconduct, with one of the more disturbing stories being that he snuck into his cinematographer's bed in the middle of the night.
The cinematographer, Magdalena Górka, recounted the incident in legal documents.
She said she woke up in the middle of the night to,
[Affleck] curled up next to her in the bed wearing only his underwear and a T-shirt. He had his arm around her, was caressing her back, his face was within inches of hers and his breath reeked of alcohol.
Larson, on the other hand, has been an advocate and ally for survivors of sexual assault.
At least year's Academy Awards — where she won an Oscar for her portrayal of a sexual assault victim in "Room" — Larson made a point to hug every survivor Lady Gaga brought on stage for her performance.
So it's no wonder that Larson would like to be associated as little as possible with a man accused of sexual harassment.
Here's to hoping that Brie Larson isn't forced to hand awards to garbage men ever again!