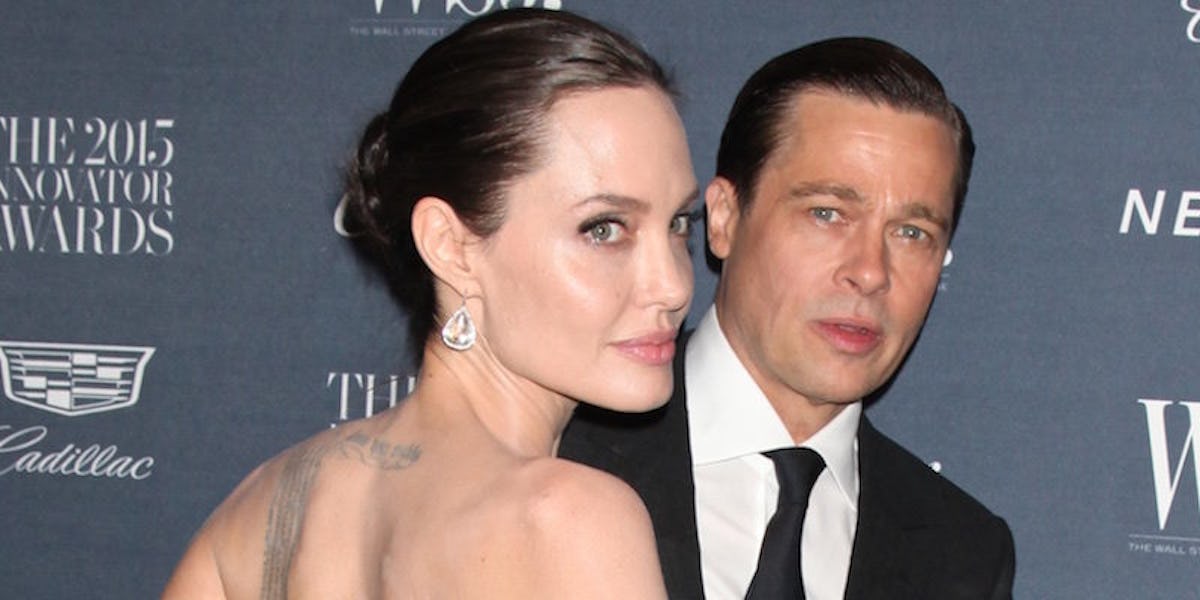 Let's Not Use Brangelina's Divorce To Pit Women Against Each Other
REX/Shutterstock
Today, I find myself wildly, wildly enraged.
As we all know by now, Angelina Jolie and Brad Pitt are getting a divorce after two years of marriage and 12 years of partnership.
Am I enraged they're splitting up? Am I pissed they're calling it quits, like every other celebrity couple who regularly grace the covers of tabloid magazines with their presence?
No, I'm not. I actually happen to think it's really wise to walk away from a relationship when it's no longer functioning.
Holding on to something that is no longer there or trying to force something to work that no longer does makes for a toxic relationship. That kind of bad energy disrespects the beautiful love you once shared.
I'm enraged by the conversations I'm hearing, what I'm reading on the internet, and most of all, these reductive memes that keep popping up on my newsfeed.
The most common story is this: Angelina's failed marriage to Brad is a huge victory for Jennifer Aniston. My entire Twitter feed right now consists of nothing but memes of Jennifer cheering on their divorce as if it's the greatest, most important moment of her life, or it's fulfilling every dream she's ever had since childhood.
Really, these memes are just perpetuating the same sexist idea that's been burned into women's brains since the beginning of time: One woman's failure is another woman's win.
We're made to think that this multifaceted, incredible life really boils down to one giant competition, in which we ruthlessly battle other women over who gets the boy.
Not only are we supposed to feel competitive toward each other, we're also stripped of our humanity and turned into tropes. We become either "good girls" or "bad girls."
Angelina Jolie, with her dark hair, bisexuality and tattoos, is the inaccessible "bad girl," and Jennifer Aniston, with her swingy hair, authentic smile and girl-next-door (What does that even mean?) charm, is the accessible "good girl."
And "bad girl" Angie surely "stole" Brad Pitt from "good girl" Jen. Isn't that how this whole media shit-storm started?
The good girl and the bad girl are, of course, natural enemies, who fight like wild animals to mate with the elusive boy. If the good girl gets dumped for the bad girl, then it's a win for the bad girl. And if the boy decides to leave the bad girl, then good girls everywhere rejoice!
It's enough to make me want to run far, far away and never turn my computer screen on again.
I'm so heartbroken because, not only do these overly simplistic tropes still exist in 2016, but men still stand at the center of all of it.
Yes, Jen publicly spoke about her heartbreak a few times, but did we forget that she and Brad divorced over a decade ago?
And in case you think she's spent the past decade doing nothing but nursing her broken heart, dreaming of the day Angie gets knocked down, you're sorely mistaken.
In fact, I'm happy to refresh your memory on just a few of the many things Jen has accomplished over the last 12 years, all of which have nothing to do with healing from her divorce.
In the last 12 years, she was nominated for both a Golden Globe and a Primetime Emmy, and won a GLAAD Media Award and a Grammy Award (for "Best Spoken Word Album for Children" in 2006).
She starred in over 20 feature films. She had a star-studded ceremony honoring her work in Hollywood, where she received the great honor of placing her handprints and footprints in concrete at Grauman's Chinese Theater — which might be one of the highest honors in one of the most competitive industries in the world.
Oh, she also created a successful hair product line called "Living Proof" and her own fragrance, "Jennifer Aniston."
Did I forget to mention she was the executive producer of eight movies and directed a short film and a TV movie?
And in case you were thinking that bad-girl Angie has spent the last decade dedicating her life solely to Brad, basking in her glorious "win" against good-girl Jenny, you were, once again, sorely mistaken.
Allow me to not-so-gently remind you what bad-girl Angie has done over the past 12 years that had literally NOTHING to do with ol' Brad.
She starred in 15 major Hollywood movies and directed five. She was nominated for an Oscar and for three Golden Globes. At the 2014 Oscars, she was recognized for her powerful global humanitarian work. She was appointed Special Envoy of the United Nations High Commissioner for Refugees.
She was also made an honorary dame by Queen Elizabeth II and has been deemed the most vocal advocate in Hollywood for refugees. In 2010, she worked with famed economist Dr. Gene Sperling and founded the Education Partnership for Children of Conflict, which funds education for children affected by disasters.
Both of these women are fucking amazing forces of nature and huge idols to me, personally. I respect them both.
Yet somehow, we're reducing their individual accomplishments by boiling their entire identities down to a dude, and by turning these multifaceted, complex women into age-old tropes.
I don't subscribe to "team Angie" just because I, too, have tattoos and am open about my sexuality. However, I don't unsubscribe to "team Jen" just because my hair doesn't naturally bounce and I've never been called the "girl next door." (Again, what does that even mean?)
I see these women for who they are, not their tropes, not their boyfriends and certainly not their competition.
If we're calling Jen a "good girl," it should be because she won a GLAAD Award for her advocacy in the LGBTQ+ community, not because she's got honey-colored hair and a sweet smile.
And if we're calling Angelina a "bad girl," it should be because she's a fearless badass who travels to war-stricken countries by herself — not just because she pouts sometimes and wears leather pants.
If you're saying the bisexual girl with tattoos is "bad" and the heterosexual girl with the glowy complexion is "good" — and that the two must clearly hate each other — then what kind of message does that send to young people?
It tells us: If we dare to be different, then we're "bad," and if we're friendly (God forbid!) then we're "good." Most girls I know want to be more than just "bad" or "good." I want to be more than just "bad" or "good."
And most girls I know (in the real world, who exist beyond internet memes) don't find a ton of joy in another woman's pain — even if it's inflicted by her own ex — regardless of how different they are from each other.
I don't believe most women are born to hate. Rather, it's something we learn through memes and click-bait articles.
I believe it's our responsibility to make the world a better a place. And I think sending the positive messages of autonomy, individuality and women supporting women, instead of sexism and harmful tropes, is a great place to start.