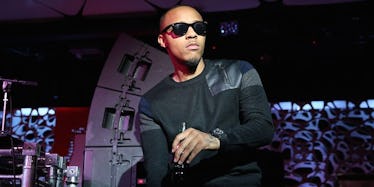 Bow Wow Is Getting Slammed On Twitter For His Instagram Pic And It's Hilarious
Getty Images
Bow wow wow yippie yo yippie... not so yay.
Shad Moss, more popularly known as rapper Bow Wow, made a major internet uh-oh this week while promoting his upcoming show "Growing Up Hip Hop," and don't think for one second Twitter is going to let him slide.
When will everyone learn the sleuths of the internet have wayyyyyyy too much time on their hands?
On Tuesday, the 30-year-old rapper posted a standard here's-my-private-jet-I'm-about-to-hop-on Instagram pic, captioning it,
Travel day. NYC press run for Growing Up Hip Hop. Lets gooo. I promise to bring yall the hottest show EVER. May 25th on @wetv
Fairly standard photo for a rapper promoting his show, right?
Wrong. Very very wrong.
According to this tweet, someone snapped a pic of Bow Wow on a not-so-private jet headed for NYC on the very same day as the Instagram upload.
The alleged Snapchat upload reads,
So this guy lil bow wow is on my flight to NY. But on instagram he posted a picture of a private jet captioned 'traveling to NY today' smh
OK, but it gets even better. Someone took it one step further and found the same photo Bow Wow posted -- on the website for a car service in Florida.
Yikes, Bow Wow. Pulling a stock photo for the 'Gram?
Like I said, the internet has literally nothing better to do than to uncover lies from rappers who were a really big deal at the age of 13 and then kind of slowly faded from most people's memories.
Twitter immediately jumped on this apparent lie and the jokes are pretty hilarious.
Some think Bow Wow just ended himself completely with this stunt.
In fact, #bowwowchallenge -- where you "fake it like Bow Wow and tweet like a millionaire" -- is trending on Twitter.
There are a few who are coming to his defense -- sort of.
And at least one Twitter user thinks whoever uploaded the Snapchat of Bow Wow on the commercial plane could have played his or her cards better.
Meanwhile, Bow Wow has yet to comment on the controversy or remove the post. He's too busy continuing to promote his new show...
Citations: Twitter is Roasting Bow Wow for Allegedly Lying About Flying On a Private Jet (Cosmopolitan)