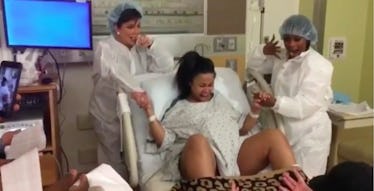 Blac Chyna Posted A Video Of Herself Giving Birth And It's Hilarious
Instagram
Today is the day we have all been eagerly waiting for… because Blac Chyna and Rob Kardashian welcomed their sweet baby girl into the world this morning around 9:18 am PST.
The Instagram page for "Keeping Up with the Kardashians" posted this adorable picture of the star-studded couple's bundle of joy.
The caption reads,
This first official photo confirms it. #RobAndChyna's daughter is literally a Dream. Click the link in our bio for all the details on this precious angel!
And oh, what a sweet little "Dream" she is! The youngest member of the Kardashian squad weighs 7 pounds and 5 ounces.
Blac Chyna's mom, Kris Jenner and her boyfriend Corey Gamble were among the family who rushed to meet the couple at the hospital.
The crew found time to do the Mannequin Challenge while Blac Chyna was basically giving birth, so we can all go home now.
No joke, they seriously SHUT IT DOWN.
This is the epic #MannequinChallenge to end all Mannequin Challenges.
Kris Jenner and Tokyo Toni are holding onto each of Blac Chyna's hands while she looks like she's giving birth. Corey Gamble is casually taking a picture or recording a video on his phone.
Rob is obviously already in dad-mode for his new baby to pop out.
This video is seriously hilarious… what an awesome first Instagram post after giving birth, Blac Chyna.
We reported earlier today Khloé Kardashian and momager Kris couldn't help but gush over Rob and Chyna's first baby together.
Khloé wrote in a tweet,
My new niece is absolutely stunning!!! So thankful I was able to land in time to witness this miracle happen! Praise God!
Kris opened up to E! News about her grandchild's exciting arrival, saying,
I got to watch [the] delivery. It was so beautiful and I'm so excited and happy to have another grandchild! Number six! It was one of the most precious moments of my life.
Kylie Jenner also joined in on the excitement, tweeting,
I can't stop looking at her congrats @robkardashian @BLACCHYNA she's so beyond beautiful, a dream
Congratulations on your adorable new baby Dream, Rob and Chyna!