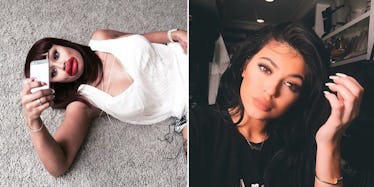 Shots Fired: Tyga's Ex Posts Her Own 'Kylie Jenner Challenge' Photo
The "Kylie Jenner Challenge" seems to be all the rage with the kids today.
For the uninitiated, teens are inflicting bodily harm upon themselves to temporarily make their lips look puffy and like those of Kylie Jenner.
Here's a short primer on the idiotic phenomenon.
Now, Blac Chyna fired shots at Jenner and her misguided followers via Instagram.
Chyna seems to have some beef with Jenner since it's rumored Jenner is dating Tyga.
Chyna used to be in a relationship with Tyga, and they even have a son together, so this feud isn't totally unfounded.
Anyway, Chyna seemingly expressed her distaste for Jenner and her lips by posting a photo to Instagram. In the pic, Chyna is wearing a comically large pair of wax lips.
Apparently, these toy lips will soon be for sale as part of Chyna's clothing line.
Here's the photo:
Citations: Blac Chyna poses in giant wax lips in apparent dig at Kylie Jenner (NY Daily News)