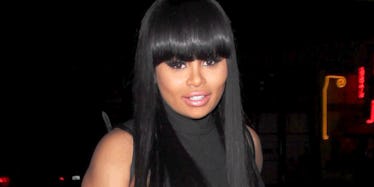 Blac Chyna Looks Like A 'Black Kris Jenner' With Her New Gray Pixie Cut
REX/Shutterstock
It doesn't look like Blac Chyna is going to stop riding the Kardashian wave anytime soon.
Not only has she successfully shimmied her way into the reality TV family's close-knit circle with ease, but she also stole Rob Kardashian's heart and had a baby with him.
Despite the fact she failed to copyright her last name after an intense legal battle with the Kardashian sisters, I think it's safe to say she's here to stay.
The sad part however is she may be associated with the Kardashians regardless of the fact she's with Rob Kardashian.
Rumors are floating around about a possible split between Rob and Chyna after the 28-year-old ex-stripper was spotted with another man.
Whether Chyna is moving on from Rob or not, nothing will stop her from stealing Kris Jenner's swag. I'm not kidding, either.
Blac Chyna recently unveiled her new hairstyle -- a fresh, gray pixie cut -- and she looks A LOT like Kris Jenner. I mean, seriously, Chyna could easily pass off as one of Jenner's many celebrity daughters.
As a matter of fact, observant Instagram commenters can't help but call Chyna the "black Kris Jenner" after seeing her new 'do. I'll let you be the judge on that, though!
Remember Blac Chyna's hair? Well, it doesn't look like this anymore...
Check out her new short, gray haircut. Fancy!
Instagram commenters are calling her the "black Kris Jenner."
Do you see the resemblance? I do.
They're basically twins.
One commenter compared Chyna's new look to Hillary Clinton's.
I don't know about that...
I definitely see some Kris Jenner influence in there, though!
How do you think the Kardashians and Jenners feel about Chyna constantly applying some of their notoriety to her own life? Has it gotten old? Is Chyna's jacking of Kris Jenner's signature hairstyle (minus the color) the final straw?
I guess we'll just have to wait and see. For now, I'm nicknaming her Blac Kris. Congratulations on your newfound identity, Chy!