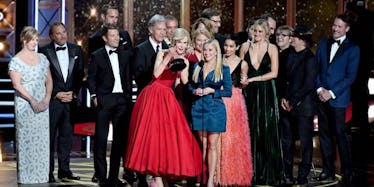 'Big Little Lies' Swept The 2017 Emmys & It Deserved Every Award
Jeff Kravitz / Contributor/Getty Images
Though at times dark and haunting, HBO's crime show Big Little Lies left fans captivated — and it certainly showed. Big Little Lies dominated the 2017 Emmys and made quite the statement, raking in an abundance of awards. The series, which is based on Liane Moriarty's novel of the same name, took home the award for Limited Series, Limited Series Actress (Nicole Kidman scored the Emmy), Supporting Actor in a Limited Series or Movie (which Alexander Skarsgård won), Directing for a Limited Series, Movie or Dramatic Special (Jean-Marc Vallée took the title), and Supporting Actress in a Limited Series or Movie (Laura Dern).
Although a lot of wins is satisfying, perhaps what's even more gratifying to the actors, producers, directors, and writers is the fact that Big Little Lies told an important story.
Reese Witherspoon, who plays Madeline in the show, took her time on stage to make an important statement. During the acceptance speech, while the cast stood behind her, she preached we need to continue to,
Bring women to the front of their own stories and make them them hero of their own stories.
Everyone was in support of the overwhelming feeling of girl power, and rightfully so. However, Big Little Lies took things up a notch.
During her acceptance speech, Kidman used her platform to bring awareness to a serious topic — one she hopes her daughters recognize. Kidman plays Celeste, one of the moms in the series who is abused by her husband Perry (played by Alexander Skarsgård). The real-life mom said,
Also I want them [my daughters] to know that sometimes when you're acting you get a chance to bring a bigger message — and this is their contribution and your contribution — we've shown a light on domestic abuse. It is a complicated, insidious disease. It exists far more than we allow ourselves to know.
This is certainly not the first time she acknowledged the show's graphic material.
Kidman revealed what it was like to depict the show's horrific domestic abuse scenes in an interview with W. She said,
I felt very exposed and vulnerable and deeply humiliated at times. I mean, I remember lying on the floor in the bathroom at the very end when we were doing the scenes in episode seven, and I was lying on the floor and I just wouldn't get up in between takes. I was just lying there, sort of broken and crying, and I remember at one point [director] Jean-Marc [Vallée] coming over and just sort of placing a towel over me because I was just lying there in half-torn underwear and just basically on the ground with nothing on and I was just, like [gasps].
Skarsgård was not one to shy away from the seriousness of the show, either. During the red carpet appearances CBS recorded on Facebook Live, he touched on the heavy aspects of the show and said that the first season was "a wild ride."
However, fans are willing to take another wild ride to Monterey, California.
Now that the series was a big success at the award show, people cannot wait for Season 2, though many wondered if that was likely to happen, considering what the first season covered in relation to the book's entire story. But there's good news for fans who (like Witherspoon) want more.
During the Television Critics Association's summer press tour,  HBO's programming president, Casey Bloys, claimed to have asked the author Liane Moriarty to take a crack at writing the second season, according to TV Line. Though executive producer and director Jean-Marc Vallée insisted that there was no need for a return, Bloys claimed "Nicole and Reese can be very persuasive."