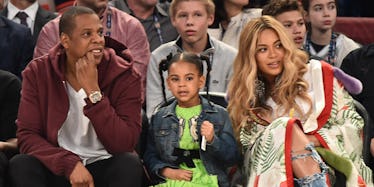 Beyonce's Twins' Net Worths Are Proof That The Carters Will Reign Forever
Getty Images
On Friday, June 30, just minutes before the waking world was about to head out into the freedom of a gloriously long Fourth of July weekend, news leaked that Beyoncé and JAY-Z reportedly named their kids Rumi and Sir Carter. (Consider this payback to whoever leaked the news that she had delivered on a Saturday night at 10:30 p.m.)
The twins join big sister Blue Ivy, and though we don't know much about the newest heirs to the Carter throne, we know enough to know Beyoncé's twins net worths will no doubt match their big sister's.
According to TMZ, which first leaked the news of the twins' names, the company run by Beyoncé and JAY-Z filed legal documents to secure rights to the names "Rumi" and "Sir," trademarking the names for "fragrances, cosmetics, key chains, baby teething rings, strollers, mugs, water bottles, hair ribbons, playing cards, tote bags, sports balls, rattles and novelty items."
Elite Daily reached out to reps for both Beyoncé and JAY-Z on confirmation of the reported baby names, but did not hear back at the time of publication.
In May 2017, Forbes officially valued Beyoncé and JAY-Z as a "billion-dollar couple," noting Beyoncé is worth an estimated personal $350 million, while JAY-Z is worth an estimated $810 million. Combining the two totals puts the incredibly famous couple at a stunning $1.16 billion.
Up until the birth of the twins in early June 2017, Blue Ivy, the couple's only daughter, stood as the sole heir to the Carter fortune. Now, because of the three-way split, it would seem that the Carter kids are each worth a very cool $333 million each — not a bad look when literally all they had to do was be delivered Earth-side to earn their keep.
Here's where things get even better, though.
JAY-Z and Beyoncé also hold equity in Tidal, according to Forbes, and when Sprint invested in the brand, the value of Tidal skyrocketed. According to Forbes' report, Tidal is valued at more than $600 million.
So even though we'll never get an exact breakdown of how much the Knowles-Carter children are worth (and honestly, it's none of our business anyway), it's absolutely safe to say Bey's kids will enjoy so many of the benefits of her and her husband's dedicated, tireless efforts — and really, good for them.
Just for the record though, Beyoncé, I am available for adoption should you want to consider me the newest addition to your family.
Please?
Please?
Please?