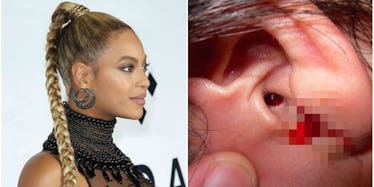 Beyoncé's Earring Ripped Out Onstage; Sick Fans #CutForBeyonce In Solidarity
REX/Shutterstock/Twitter
Don't even TRY to mess with Queen Bey because she handles every situation like a pro. That #BossLife is simply how she rolls.
We already know this, but the news I'm about to drop even further proves this fact.
Beyoncé slayed her Tidal X: 1015 show at Brooklyn's Barclays Center in the Big Apple yesterday, and things got a tad bloody while she was doing her thing on the stage.
Entertainment Tonight reports Beyoncé's earring legit ripped her ear while she was performing.
UMM, OUCH MUCH?!
Her ear started to bleed… and you know what Bey did? She kept the performance game going so strong, and didn't let a little earring faux pas mess with her vibe one bit, because she's Queen.
I don't know about you, but if an earring casually decided to rip out of MY ear and it started to bleed, I would not have handled the situation as cool, calm and collective as Bey did. It's safe to say I'd be BUGGING the heck out and, most likely, holding onto my ear in so much agony.
A fan in the audience snapped a clip of the moment when Bey's earring incident went down.
Let me just say, Beyoncé, your reaction is impressive AF. I give you so much credit for holding down the stage while singing "Haunted."
Beyoncé continuing to perform after her earring ripped from her ear and started bleeding. A true performer. pic.twitter.com/FvyICuxVAb — ㅤ (@TheDailyBey) October 16, 2016
Quickly after footage of Beyoncé's bleeding ear was posted, #CutForBeyonce started to be a thing on Twitter.
It's SUPER graphic and these pictures are not for the queasy. Fans followed up to the footage by, according to Teen Vogue, cutting their ears.
One fan posted to Twitter, along with a picture of a bleeding ear,
All for you Queen #CutForBeyonce #BleedForBeyonce
Another wrote,
If the queen bleeds the hive must unify and leak our blood to restore her spirits. Beyhive we must #CutForBeyonce
People on Twitter thought this hashtag was absolutely absurd.
Citations: Beyoncé Ripped off Her Earring in Concert, so People Are Literally Cutting Their Ears in Her Honor (Teen Vogue), Beyonce Starts Bleeding After Earring Rips During Tidal Concert, Continues to Perform Like a Queen (Entertainment Tonight)