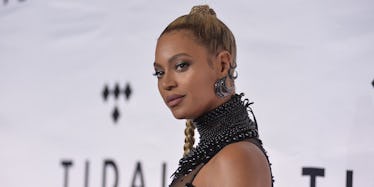 The CMAs Erased Their Beyoncé Tweets Because People Are Racist And Awful
REX/Shutterstock
Beyoncé blessed a crowd she doesn't usually perform for (but honestly, that doesn't really exists -- everyone loves Beyonce, right?) at the CMA Awards.
There, she joined up with the Dixie Chicks to perform "Daddy Lessons" from Lemonade.
Obviously, because it was Beyoncé AND the Dixie Chicks (a band that I am still waiting to join after my countless letters asking them to do so), the show was completely amazing.
However, CMAWorld.com showed no sign of Queen Bey on their website, or their Twitter.
According to TMZ it was all to appease racist fans who were offended by Beyoncé's appearance.
On early Thursday, the day after the CMA Awards, there were plenty of posts that featured Beyoncé, but those posts, and any tweets including the singer, have since been deleted.
It is believed that the CMA Awards removed any mention of Beyoncé to soothe some country music fans' (Fans? More like racists) criticism toward letting the singer perform.
Some called it "our country music show."
Others were outraged because Beyoncé supports the Black Lives Matter movement.
We all know that the Black Lives Matter movement does not hate cops, or white people, right? RIGHT?
Other white people are confused and think that they own country music.
Ya'll know that there were more white people nominated for the BET Awards this year than black people at this year's Oscars?
Apparently, the CMAs couldn't take this type of backlash and distanced themselves from Beyoncé and the Black Lives Matter movement.
CMA erased all evidence of Beyonce performing at the awards last after her appearance sparked racist backlash from some country fans. pic.twitter.com/LOngo91jjL — Pop Crave (@PopCrave) November 3, 2016
Even the Dixie Chicks took to Twitter to discuss the issue.
At 5 pm EST on Thursday, the CMA Instagram account regrammed one of Beyoncé's pictures from the show.
It is the only post that mentions her.
According to TMZ, sources tell them that the heads of the CMAs just want the backlash of inviting Beyoncé and the Dixie Chicks to perform to "go away." They feel it was a mistake to invite them all in the first place.
Did you guys see that performance though? Why can't racists let us have nice things?
*Editor's note: The CMA has released the following statement:
CMA has not erased any mentions of Beyoncé's performance on the CMA Awards. In advance of the broadcast, CMA removed a five-second promotional clip from ABC.com and CMA's Facebook page. The promo was unapproved and CMA removed it prior to the broadcast. Beyoncé's performance with Dixie Chicks was a highlight of the evening and we are continuing to share the amazing full-length performance clip via our official social channels.
Citations: Did The CMA Awards Really Delete All Mention Of Beyoncé To Appease Racists? (Huffington Post)