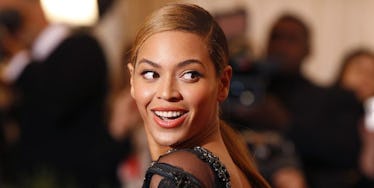 There's One Music Act Who Needs To Replace Beyoncé At Coachella
REUTERS
Oh, if only we could go back to January 3. President Barack Obama was still in office, we had over a month to plan for Valentine's day still (which we still blew), and Beyoncé announced she would be headlining Coachella 2017!
What a world! What a time to be alive!
But on Thursday, we woke up to some sickening news.
Beyoncé, on doctor's orders, has pulled out of Coachella. She promises to return next year as a headliner, but God... does this hurt.
I don't want to be selfish, but are her twins that much more important than ME?! (The answer is obviously yes to everyone including myself, but excluding my own mother.)
A statement read,
Following the advice of her doctors to keep a less rigorous schedule in the coming months, Beyonce has made the decision to forgo performing at the 2017 Coachella Valley Music & Arts Festival. However, Goldenvoice and Parkwood are pleased to confirm that she will be a headliner at the 2018 festival. Thank you for your understanding.
So, while we understand why Beyoncé had to drop out, we're still left with one question...
WHO WILL REPLACE BEYONCÉ?!
What one person has the grace, beauty, energy, pipes, power, moves and chutzpah that Beyoncé has?
Well, hold on to your hats, fuckos, because I have a solution that's going to fix your music and drug festival.
The one person who can replace Beyoncé at Coachella is... five people.
Two words:
I know what you're thinking: brilliant.
But let me explain a little bit further, just for kicks.
The only thing more exciting than Beyoncé announcing she would headline would be a full Spice Girls reunion.
Who else could rock such iconic fashion?
Who else could perform elaborate choreography in ridiculously high heels?
Beyoncé rose to fame in a girl band, and the Spice Girls are the ultimate girl band.
Yes, I did just realize this line from "2 Become 1" was about condoms. THEY WOULD ADVOCATE SAFE SEX SO NO LITTLE COACHELLA BABIES HAPPEN.
Who run the world? Girls. And what is the Spice Girls' main ideology?
I say without an ounce of irony the Spice Girls were the first people to teach me about feminism.
And you know who else loves feminism?
Our girl Bey.
If we can't have Beyoncé, let us have this...