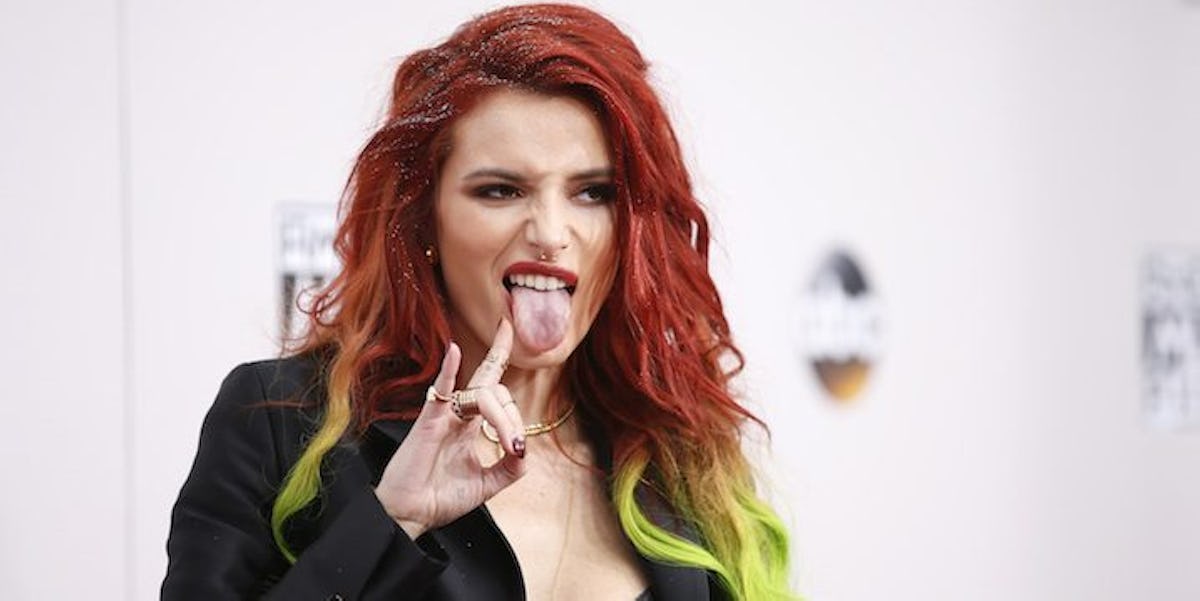 Bella Thorne Posts Completely Naked Picture Wearing Nothing But High Heels
REUTERS
It's official.
Bella Thorne is acting like all of us once we finally broke the shackles of living with our parents and moved into a dorm with 228 square feet of freedom (shared with another person) for the first time.
The only difference between this phase of Bella's life and my phase is that I'm not famous... and also I posted it on Myspace.
Of course, my nude was taken with the flash on in front of a dirty mirror, but anyway...
Forget the days of Bella Thorne on Disney's "Shake It Up!"
Monday, the 19-year-old actress posted a shot of her nude on Twitter (I assume she's fully nude?), except for some white socks and high heel booties.
The photo, in which her eyes are half-open, was joined with the caption, "Trippy little bug."
A few hours after she posted the photo, she tweeted about getting her nipple pierced.
I used to think I wanted a nipple piercing, too, but then I realized the person giving me the piercing would have to see my nipple, and I got too shy.
At age 19, the only person who saw my nipple was a lifeguard when my top accidentally flew off after a water slide. (PS -- If that was you, feel free to hit me up on email.)
The "DUFF" actress also recently got some body art: a red "93" tattooed on her forearm.
Why 93? No idea. Originally, I assumed she was born in 93, but Googling shows she was actually born in 1997 and I am literally as old as time itself -- 1997?! 
Perhaps, it's a tribute to her older sister who was born in 1993.
Thorne took to Snapchat before the naked photo to post some images of herself getting ready for the shot.
She rocked her blue hair, some foundation, lipstick and plenty of glitter.
Bella, who has been open about her struggle with acne, posted a video of her taking care of her skin with a facial after the sexy snap.
She wrote,
It's no secret I struggle with acne. Sometimes it's clear and sometimes it's just not. I'm very self-conscious and constantly feeling bad about myself. But I shouldn't feel bad. It's normal to have acne. EVERY1 does!
Jokes aside, Bella Thorne can do whatever she wants with her body and fuck the haters.
Citations: Bella Thorne poses nude as she strips down to just socks and heels for provocative Twitter picture (DailyMail.com)