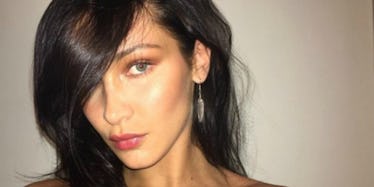 Bella Hadid Poses Topless In Sexy New Instagram Wearing Only Earrings
Instagram
Well, it finally happened. Model Bella Hadid just outdid herself with her latest Instagram post.
The 20-year-old model has been crushing it over the last 12 months or so, making arguably her biggest career move to date when she walked in the Victoria's Secret Fashion Show in Paris last November.
Tuesday, Bella Hadid took to Instagram to post a photo of herself, sitting in bed in a pink one-piece bikini.
The below shot is very "Swan Lake" of Bella, and you're not going to be upset about it.
To caption the above photo, Bella wrote,
Morning.
If you like the above photo, you're going to love the picture the 20-year-old posted just hours afterward.
By a show of hands, who's ready to check out a topless Bella Hadid wearing nothing but a pair of earrings?
DAMN, BELLA!
To caption the above photo, Yolanda Hadid's daughter wrote,
Today... off to La La Land @nike.
So, it looks like Bella Hadid is off to Los Angeles for her next big gig, huh?
By the looks of it, before she jetted off to LA, Bella Hadid was recently on a tropical vacation in Jamaica.
Here's the gorgeous 20-year-old stunner on a lounge in paradise.
To caption the above photo, Hadid wrote,
I need you out in Jamaica relaaaxxin..
Girl, you know I want to be there! Oh, she's not talking about me? Fine.
In addition to the lounge shot, Bella Hadid posted a photo of herself walking across some sort of bridge, her butt visible for all to see.
Just another day in the life, right?
Recently, the model dished on her go-to sleeping hack. So, if you're an insomniac, you're going to want to pay attention.
Speaking with Teen Vogue, Hadid said,
I recently started listening to meditation music which makes me have a deeper sleep, even if I just have four hours. I'm usually out by the fourth song.
Meditation music, ay? At this point, I'm down to try whatever to catch a peaceful snooze.
Citations: bellahadid (Instagram), Bella Hadid shares a steamy shot of her herself relaxing in a nude swimsuit as Jamaica getaway comes to an end... before uploading racy topless image (MailOnline)