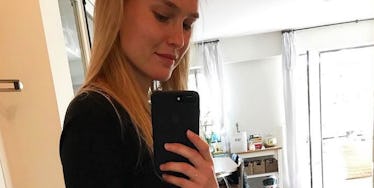 Bar Refaeli Announces She's Pregnant Again With Instagram Pic Of Tiny Baby Bump
Instagram
Mazal tov!
Months after giving birth to her first baby with husband Adi Ezra, Bar Refaeli announced on Instagram that she is pregnant with a second child. You guys all ready for Baby Bar pt. 2?!?!?!
The 31-year-old mother posted this casual tummy shot showcasing a little baby bump.
She captioned the post,
Something's cooking....
A baby! THAT'S what's cooking!
Refaeli gave birth to her first baby, a girl named Liv, back in August of 2016. She clearly enjoyed the experience as she wasted nearly no time getting back in the baby-makin' groove with Ezra, a 42-year-old businessman who, like Refaeli, is an Israeli native.
The couple were married in 2015 during a ceremony in Haifa, Israel.
Honestly, pregnant Bar Refaeli is a pretty awesome site to behold. I mean this in the least creepy way possible, which admittedly is still a little bit creepy. Just like hear me out, though, I'm not entirely wrong here. Creepy? Sure. Wrong? Def not.
This was her during her pregnancy with Liv last year.
Like, how do you do that? Pregnant Bar Refaeli looks better than regular all of us. Is she human? Is that what this is? She's like not a real person as much as she's just a very advanced robot who once dated Leonardo DiCaprio for a little bit?
I mean, this isn't how humans are supposed to be pregnant!
This was her like RIGHT before giving birth to Liv.
Her recovery after is even crazier.
This was her just three weeks after she gave birth.
She's probably not done yet having kids. With her second baby on the way, Refaeli is now halfway to her goal of having four children.
During a Hello! Fashion Monthly she said,
I think this will be a decade of family… I come from a family of four children. Hopefully, I'll have a big family, but I'll take it one by one.
Godspeed, you beautiful robot!
Citations: Bar Refaeli Expecting Second Child (People)