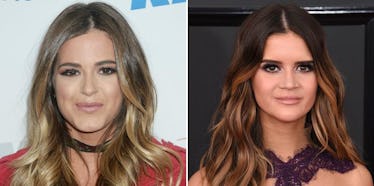 Everyone Was Convinced 'Bachelorette' JoJo Fletcher Won A Grammy Award
REX/Shutterstock
JoJo Fletcher is really talented when it comes to winning hearts and rocking hair that looks like a gorgeous wig hand-sewn by baby angels.
That being said, there's no Grammy for Best Shiny-Haired Heart Burglar, so the odds JoJo walked away with an award Sunday night were slim.
Fans online are convinced the "Bachelorette" star won Best Country Solo Performance and was nominated for Best Country Song, Best Country Album and New Artist of the Year, but the song that nabbed these nominations belongs to country singer Maren Morris.
"My Church," the lead single off Maren's (dope) major label debut album, Hero, scored the singer a Grammy this weekend and people can't stop congratulating her JoJo for it.
Season 12's resident, beautiful, smart-ass Wells Adams congratulated JoJo on Maren's performance of her song "Once" with Alicia Keys.
JoJo graciously accepted the praise because sometimes identity theft is the easier path.
It's pretty unlikely the "Bachelorette" alum has plans of releasing her self-titled debut any time soon, especially considering the wedding she's planning with fiancé Jordan Rogers.
In December, JoJo told People,
We're still planning on next year. We're just taking our time... I think about my wedding dress and seeing Jordan for the first time and how amazing that will be... I know it will be what I dreamed it would be.
The 26-year-old is already dreaming of her future family with the former professional football player (no, not that one. His brother). She said,
I keep envisioning babies… And I'm like, 'Wait, JoJo, pump the brakes! Do this in the right order!'
There is no right order when you've already earned a Gram --  Oh, that's right. That was Maren.
Someone needs to get a haircut or a hat or a new face or something because this isn't going to get any easier.
Citations: Everyone Thinks JoJo Fletcher From "The Bachelorette" Won a Grammy Award (Seventeen)