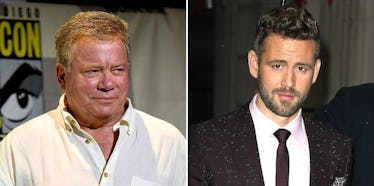 Bachelor' Nick Viall Was Randomly Being Bullied By William Shatner On Twitter
REX/Shutterstock
We are living in a stressful time, America.
The speed of information, the constant responsibility to decipher real issues from fake news and the fear our president could get us all blown very much the hell up any day now adds up to create a taxing day-to-day experience.
Luckily, William Shatner's hatred for "Bachelor" star and, more recently, "Dancing With The Stars" contestant Nick Viall is so random and entertaining, it may distract you from the dystopian young adult novel our reality has become.
The 86-year-old kicked off Nick Viall Dragfest 2017 with a call to action for his followers.
Then he got specific and started doling out quotas to sabotage the reality star.
When conventional paths proved difficult, he aimed for Nick's fanbase.
William Shatner cannot see Nick Viall hit the road fast enough. No one knows why, but that's not really the point, now, is it?
When one user tried to call him out for bullying Nick, Willy Shatz stayed committed to the cause.
Nick and his "Dancing With The Stars" pro partner, Peta Murgatroyd, tweeted sad emoji back at the veteran actor because their feud game is weak as hell.
Eventually, Will apologized.
He calmly explained it was Nick's behavior and personality, not his dancing, that made him so darn despicable.
William Shatner might be nearing his 90s, but he seems sharp as ever. The "Star Trek" alum sees right through Nick's BS and, for whatever reason, is hellbent on destroying him.
After all, Nick's guard is down at the moment. He's focused on competing on a televised dance competition for sortalebrities and likely spends his spare time wedding planning with fiancée Vanessa Grimaldi.
Give it up, Nick. You just got Shat on, and you can bet your Chubbies he'll be back to finish the job.
~*PrOPheCy*~: William Shatner will not rest until Nick Viall is destroyed.