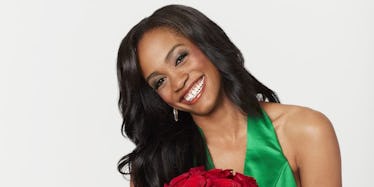 Is Rachel's 'Bachelorette' Season Canceled? Fans Curious After 'BIP' Suspension
ABC/Craig Sjodin
News just broke that Bachelor in Paradise has suspended filming as reports have surfaced regarding "misconduct" between castmates.
Update: On June 14, DeMario Jackson gave E! Online the following statement about the Bachelor in Paradise suspension and claims about his involvement: 
It's unfortunate that my character and family name has been assassinated this past week with false claims and malicious allegations. I will be taking swift and appropriate legal action until my name is cleared and, per the advice of legal counsel, will be seeking all available remedies entitled to me under the laws.
Corinne also released a statement to TMZ on Wednesday. She said: 
I am a victim and have spent the last week trying to make sense of what happened on June 4. Although I have little memory of that night, something bad obviously took place, which I understand is why production on the show has now been suspended and a producer on the show has filed a complaint against the production. As a woman, this is my worst nightmare and it has now become my reality. As I pursue the details and facts surrounding that night and the immediate days after, I have retained a group of professionals to ensure that what happened on June 4 comes to light and I can continue my life, including hiring an attorney to obtain justice and seeking therapy to begin dealing with the physical and emotional trauma stemming from that evening.
Earlier: Warner Bros. gave the following statement to Elite Daily:
We have suspended production and we are conducting a thorough investigation of these allegations ... Once the investigation is complete, we will take appropriate responsive action.
Now, fans are wondering if Rachel Lindsay's season of The Bachelorette will be canceled due to the seriousness of the situation.
Obviously, "misconduct" is a big deal, and the media is working on understanding what actually went down. The whole incident reportedly involves an incident that happened between two Bachelor in Paradise contestants.
According to Entertainment Tonight, something sexual happened between two contestants while filming in the pool, causing a producer to report "misconduct in the workplace."
A source told ET,
They start talking and joking… Everyone is just going about their business. Cameras are rolling. Producers are everywhere. That's when a 'third party' felt uncomfortable, claiming misconduct in the workplace. As of right now, production of 'Paradise' is suspended indefinitely. And they are sending everyone home and telling everyone else to stay home.
As of now, production has been completely shut down.
Viewers are currently left questioning what this all means for The Bachelor empire in general, and more specifically... what about Rachel Lindsay?!
Hard to say if the incident will have a domino effect, though we can likely expect limitations and regulations on the now infamous hook up scenes from The Bachelor and Bachelorette shows. However, the show has neither said nor done anything to confirm that the filming of Lindsay's season will at all be influenced by the alleged incidents on Bachelor in Paradise.
Fans have been flocking to their televisions on Monday nights to watch Rachel work her way closer to finding true love, and rooting her on from the comfort of their wine and couches.
All fingers are crossed that her season will be allowed to finish airing and that viewers will ultimately see Rachel ride off into the sunset with her Prince Charming.