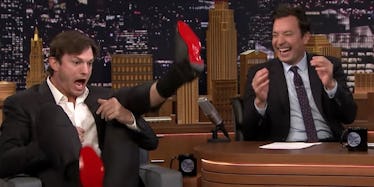 Ashton Kutcher Ripped His Pants On TV While Talking About 'Making Babies'
YouTube
Last night, Ashton Kutcher accidentally split his pants on national television.
This morning, Ashton Kutcher low-key spilled the beans on the gender of his baby with Mila Kunis.
Basically, Ashton Kutcher has never been more like Michael Kelso, and I couldn't be happier about it.
To be fair, the reason Ashton ripped his pants was because he was trying to demonstrate the struggles of parenthood.
On Wednesday night, the 38-year-old actor stopped by "The Tonight Show Starring Jimmy Fallon" to promote the second season of his Netflix series, "The Ranch."
Jimmy congratulated him on his and Mila Kunis' upcoming second child — who we now know is a boy.
The two fathers were bonding over the struggles of complex children's accessories, one thing led to another and suddenly Ashton was demonstrating the way a baby sits in a car seat.
Now, personally, I didn't see any rip. And trust me, I looked.
But a few moments after Ashton's accurate visual of car seat life, he stood up abruptly and announced,
I just ripped the crotch out of my pants, Jimmy. I think I just tore it.
Again, I don't see anything in the play by play, but according to Ashton, it definitely happened.
He said,
Legitimately, I think I had a nut hanging out of my pants. I'm serious. If you rewind...
Don't worry, Ashton. I have rewound and rewound and I promise I did not see your nut.
So, yeah. In other news, Ashton Kutcher refers to pregnancy as "making humans," which is just delightful.
When Jimmy congratulated him on the second pregnancy he said,
Making humans. Just making people.
Classic.
But he's also a little worried about the people-making this second time around.
Ashton said,
The first one, I was almost like a doula. I was reading every book. I was ready. I had a catcher's mitt on. This one, I haven't done anything. I'm like, 'Well, we already didn't break the first one.' They're really durable. They don't break easily. You have to really try to break them.
Aw, don't worry Kelso. Just buy some stronger pants and you'll be fine.
Citations: Ashton Kutcher Split His Pants While Talking About "Making Humans" With Mila Kunis (Refinery29)