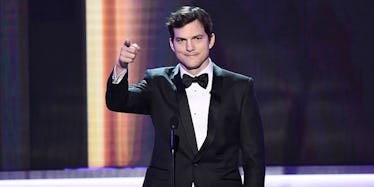 Ashton Kutcher Fires Back At Claims He Cheated On Mila Kunis In One Perfect Tweet
Kevork Djansezian/Getty Images
Ashton Kutcher completely shut down a tabloid that accused him of cheating on Mila Kunis in a single tweet on Sunday, July 9.
The Star tabloid had snagged some pictures of Kutcher spending a day with another woman and said, "Hey, Ashton! Who's the girl?" effectively accusing Kutcher of cheating on his wife whom he's been married to since 2015. They also have two children.
Well, the girl is Kutcher and Kunis' cousin, according to Kutcher. Elite Daily reached out to Kunis and Kutcher's team for comment on the tabloid, but did not hear back by time of publication.
Kutcher said in the tweet,
You should have heard how upset Mila was that I spent the day with our cousin. Sorry aunt Jodie these magazines lack integrity.
*Star takes foot, inserts into mouth*
I know this is just a tabloid, but come on, have some actual receipts if you're going to accuse someone of cheating. It would probably take, like, half an hour of digging to figure out the woman in the pictures is a family member of Kutcher and Kunis.
Kutcher is no stranger to being accused of cheating by tabloids.
Back when he and ex-wife Demi Moore got divorced in 2013, tabloids said the split was a result of his infidelity, but those rumors were never confirmed.
Kutcher actually addressed this back in April 2017 when he was awarded the Robert D. Ray Pillar of Character Award. In his acceptance speech, he said,
I'm also probably the first person to get this award for character who had, like, his name splashed across every gossip magazine as an adulterer like five years ago. Character comes when those magazines tear you apart for something you may or may not have done and you gotta go out and perform tomorrow — with everyone looking at you like you might be an adulterer.
So there you have it, people. Kutcher was just hanging out with his cousin, and tabloids suck.