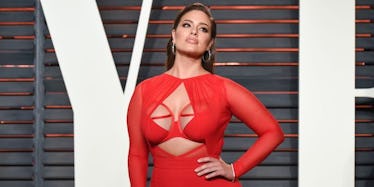 Ashley Graham Flashes Her Boobs At The Camera In New Magazine Shoot
REX/Shutterstock
The first-ever size-16 model to cover the Sports Illustrated Swimsuit Issue still has nothing to hide.  It wasn't a phase.
Even now, Ashley Graham enjoys showing off her perfect figure despite the rude trolls who've littered her Instagram comments time and time again.
The 28-year-old model sat down for a new interview with V Magazine in which she spoke about being an "outsider" in the modeling industry due to her size.
Graham stated,
For so long I have been an outsider because of my size. And I think that fashion has always in some way catered to celebrities or to a thinner idealistic model. And I think now its changing because of voices like mine.
You keep breaking down those barriers, Ashley!
After talking about the impact modeling has on how society perceives beauty, Ashley Graham went on to talk about the industry models themselves, saying,
I don't think that you can teach someone how to be a model. I think you can teach them how to appreciate the unique things about themselves; and I think you can teach people how to act on set or how to be personable.
After offering up her thoughts on the industry, she FLASHED HER BOOBS at the camera during a recent photo shoot. Press play!
No, you're not dreaming and yes, she actually flashed her boobs at the camera! Now, I understand why these polaroids were "unpublished."
So, why does Graham continue to flood social media with sexy photos some people sadly haven't learned to appreciate? She's just trying to make the world a better place.
She's just trying to make the world a better place. She added,
One thing I realized in like posting a half nude photos [on Instagram] is: why am I posting them? Am I posting them because I think I am hot? Or am I posting them because I want women to see what they've never seen before because that's what they look like.
Um, I am NOT complaining... Ashley, that's a good enough excuse for me!
Citations: Ashley Graham Opens Up About Her Body in V Magazine: 'I Have Been an Outsider' (People)