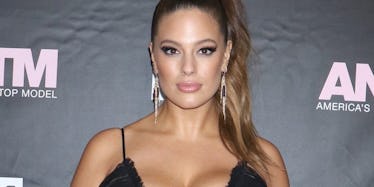 Ashley Graham Wore A Bra Made Of Bagels, Becomes The Ultimate 'Bae-Goal'
REX/Shutterstock
If you're looking for the two Bs, Ashley Graham has 'em.
BOOBIES AND BAGELS, BABY, BOOBIES AND BAGELS.
Speaking frankly as a woman who loves having any boobs or bagels at all ever, there's something so soothing about watching Ashley create her own bread nipples on Glamour Fashion Director Jillian Davidson's Instagram.
Ashley recently spoke at the Urban Arts Partnership 25th Anniversary Benefit and recalled a time when the world was less welcoming of these boobs, which we can all agree are two gifts we don't deserve.
She told attendees,
I've lived the torment of boyfriends breaking up with me because they were afraid I was going to be too fat later in life… It's the same cycle, it doesn't matter what generation we are in. Every kid is going to go through the same thing.
Despite being famous for her curves and her beauty, Ashley insisted she still suffers from moments of brutal insecurity.
The 29-year-old said,
I wake up sometimes and I think, 'I'm the fattest woman alive.' But it's really about how you handle it when you wake up. I look in the mirror and I have my affirmations. And mine are simple. [I say] 'You are bold. You are brilliant and you are beautiful.' And then if my lower pooch is really puffing out that day, I say 'Lower pooch you are cute.' And we have a moment. And if the hips are really popping I say, 'I love you too hips.'
Her newest mantra -- likely something along the lines of, "I love you bagel boobs" -- is one you may all feel free to use when you're chillin' in the kitchen on a Sunday, slammin' some warm circular bread onto your bare chesticles like a true top model.
Gone are the days of posing with two random, masculine hands holding those precious blobs. You're gonna slap a couple breakfast loaves on those puppies and see how changed your life feels.
Bible, you will never look back.
Citations: Ashley Graham Shows Off Her Love of Carbs by Using Bagels as a Bra (PEOPLE)