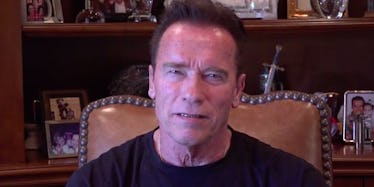 Arnold Schwarzenegger Responds To Donald Trump 'Apprentice' Diss With Savage Tweet
Twitter
It's pretty easy to burn Donald Trump — he always lines up the shot so nicely — but Arnold Schwarzenegger wins today's Donald Trump Burn prize.
Here's how it went down: Arnold Schwarzenegger, actor and former Republican governor of California, is the new host of Trump's famous show, now titled "The New Celebrity Apprentice."
Trump — who is still technically the executive producer of "Apprentice" — is apparently petty AF and took to mock his own show's poor ratings on last night's season 14 premiere (which he blamed on Schwarzenegger, I guess).
He even worked in a "Terminator" reference, just to be an extra
"But who cares, he supported Kasich and Hillary." It kinda sounds like you care, Trump.
But anyways, Schwarzenegger was not about to take that lying down. He is the Terminator, after all.
Schwarzenegger went with the backhanded compliment burn — a real American classic.
The former governor wrote,
I wish you the best of luck and I hope you'll work for ALL of the American people as aggressively as you worked for your ratings.
Obviously, people loved it.
But that's not even the only way Schwarzenegger responded to Trump.
The 69-year-old actor and politician also reposted a video of himself on Twitter, reciting a quote from Abraham Lincoln's inaugural address.
The video was filmed back in November right after the election, but Schwarzenegger reposted it on Friday, urging Trump to listen to the message.
In the video, Schwarzenegger says,
After yesterday's election, I've been thinking a lot about this quote from one of my heroes, President Lincoln. I think it is an important message for all of us today. And I'm sure you want to hear me read Lincoln's speeches in my Austrian accent. Here we go. 'We are not enemies, but friends. We must not be enemies. Though passion may have strained, it must not break our bonds of affection. The mystic chords of memory, stretching from every battle-field, and patriot grave, to every living heart and hearthstone, all over this broad land, will yet swell the chorus of our Union, when again touched, as surely they will be, by the better angels of our nature.' Isn't it wonderful? I love this quote. The campaign is over, the election is over, we are not enemies. We are neighbors, we are friends, and most importantly, we are all Americans. We have a lot of work to do to keep America great. So let's do it together.
Phew. Talk about going high.
(And he's right, of course — I really DID want to hear him read an Abraham Lincoln quote in his signature Austrian accent.)
Citations: ARNOLD SCHWARZENEGGER Fires Back at Trump GIVE A S*** ABOUT YOUR NEW JOB (TMZ)