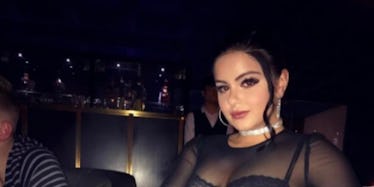 Ariel Winter Smokes A Cigar In See-Through Top And Black Bra Like A Total Boss
Instagram
I was really starting to lose my mind.
It had been a few weeks, but "Modern Family" star Ariel Winter is finally at it again.
It appears the 19-year-old actress and social media savant is currently on vacation with her boyfriend, Levi Meaden, in China.
So, what are Winter and Meaden doing in China? Well, it appears the pair spent at least one night of their Far East trip at a cigar bar.
How do we know this?
Well, Winter took to Instagram, like she's done so many times before, to post a photo of herself smoking a cigar while wearing a see-through top, black bra and a very short skirt.
WHERE HAVE YOU BEEN THE LAST THREE WEEKS, GIRL???
To caption the above Instagram photo, the 19-year-old wrote,
When in Beijing at a cigar bar...
I mean, who could argue with that logic, right?
According to ET, Winter posted quite a few shots of herself in that see-through top on social media. Here's a selfie the actress posted with the 29-year-old Meaden, presumably also in Beijing.
You already knew Ariel Winter was a total boss, but this shot of her rocking a see-through top, smoking a cigar at a bar in China takes her street cred to all new heights.
The Instagram queen is back, baby, and like she's told you before, if you're not down with the above photo, she DGAF.
Speaking abut her propensity to post sexy photos of herself and not give a crap what anyone else thinks, Ariel Winter said,
I'm not going to fight with someone on my Instagram that tells me they don't like my outfit or I should put my butt away. I'm sorry you think I should put my butt away, but just unfollow me.
When you stop thinking and worrying about what everyone else is saying, you start crushing life on your own terms.
Keep being a boss, Ariel Winter.
Citations: Ariel Winter Smokes a Giant Cigar in a Bra and Sheer Top in China: See Her Sexy Travel Pics! (Entertainment Tonight)