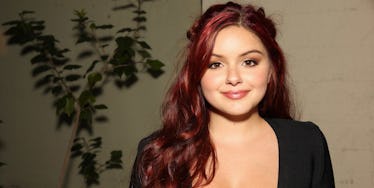 Ariel Winter's Moving Instagram Post Shuts Down Every Body-Shaming Troll
REX/Shutterstock
Ariel Winter is back at it, shutting down body shamers and further solidifying herself as a major advocate for a body-positive Hollywood community.
At some point over the past few years the "Modern Family" star decided to change the narrative of the way the public viewed her body.
That's a weird sentence to write but for some reason that's pretty much all the Internet talked about when it came to Winter for a pretty long time.
Also, she's like 18, you weird Internet buckets of yuck.
Today's edition of "Ariel Fighting Back" features an insanely moving post against bullies.
This is far from the first time that she's used Instagram as a medium to post against online bullying.
Ariel has done it so often now that she's become arguably one of the biggest public advocates against against slut-shaming.
A few months ago she posted the following mega-viral post to her account.
She captioned the upload,
Who knew that an innocent photo with my nieces would turn into this? The height of a girl's skirt or whatever she is wearing for that matter, does not imply what she is asking for. It sickens me to think at 17 years old, a photo of myself with my nieces is suggesting that I'm "asking for it". I typically never give power to the mean things people bravely say behind their computer screens on the Internet, but this is for the girls who are constantly bullied whether it be online or at school.. You are not asking for anything because of what you are wearing- you are expressing yourself and don't you ever think you deserve the negativity as the consequence to what you are wearing- YOU ARE BEAUTIFUL. Celebrate you and don't let anyone's comments allow you to think less of yourself. Us girls have to stick together!!!!!!
Thank god for Ariel Winter.
Citations: Ariel Winter Calls Out Her Body ShamersI Love My Bullies for What They Truly NEED Is Love (Peopl)