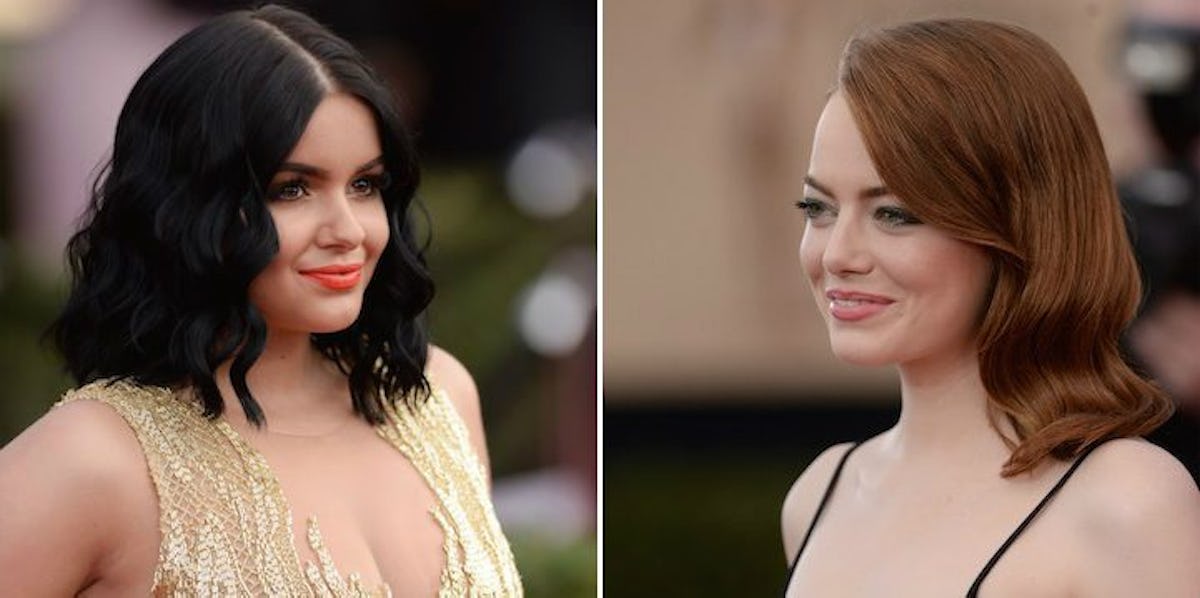 Ariel Winter And Emma Stone Nailed This SAG Awards Hair Trend You Need To Try
REX/Shutterstock
As America regresses at light speed, Hollywood prepares itself for the inevitable return to a time when disenfranchised masses fought for basic, inalienable rights and pin curls were a thing. Cute!
Here's how Hollywood showed up to the 2017 Screen Actors Guild Awards.
"Game of Thrones" star Maisie Williams channeled old Hollywood glamour with soft waves, but punched that shit up with some dark lipstick that screamed, "It's actually 2017, even if it feels like 1930s Germany."
"Orange Is the New Black" star Danielle Brooks hit the red carpet in a super futuristic beehive...
...but went back in time for Entertainment Weekly's SAG party.
This look is DEFINITELY flawless enough to distract from the cloud of profound sadness threatening to choke each of us to death in our sleep.
"Stranger Things" fan favorite Shannon Purser, aka Barb, also pulled off a pin curl look because perhaps camouflage is the best way to survive the atrocity of dystopian America.
Shannon's "Stranger Things" co-star Natalia Dyer followed suit with loose waves and a dress that looks -- and I mean this in the best way -- like the wearable version of a period tracking app.
This dress will be banned by morning along with all actual period tracking apps and periods and uteruses and women and the color red. Just in case.
Ariel Winter framed her face the back-in-the-day way, with jet black hair curtains parted down the middle for equal ear coverage.
This will come in handy when Ariel is looking for somewhere to store the small wads of confederate money and proof of US citizenship we will all soon be forced to carry at all times.
Emma Stone! *kisses fingers like a cartoon Italian chef* These days, Emma is the queen of throwback Hollywood looks.
When Donald Trump enlists her to perform "Crazy, Stupid, Love" (he's not a "La La Land" fan) live at the White House six nights a week in exchange for backhanded compliments and the opportunity to see the sun rise one more day, you KNOW our girl is going to bring this classic glamour.
So many gorgeous looks, so little time to try them out before this country burns to the ground. Keep channeling the romance of yore, ladies!